On a day when an investment research firm with a focus on activist short-selling alleged serious financial risks at Adani group, the anchor investor book of the follow-on public offer of Adani Enterprises (AEL) was subscribed 1.5 times by 33 funds and investors .
Anchor investors bid for shares worth ₹9,000 crore in the country's largest FPO for ₹6,000 crore worth of shares up for allocation. AEL will raise ₹20,000 crore through the FPO.
Bidders include marquee investors such as Abu Dhabi Investment Authority, Mubadala Investment, BNP Paribas, Maybank Asia, LIC, HDFC Life, SBI MF, Think Investments, BNP, Socgen, Citigroup, Morgan Stanley, Goldman Sachs, Jupiter and Al Mehwar, an announcement from AEL said.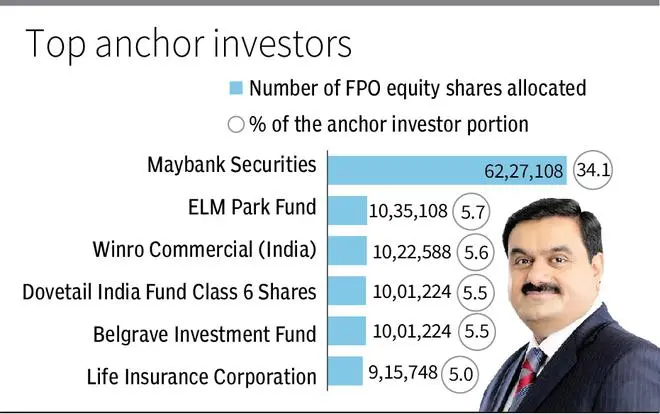 Retail book opens Friday

For retail investors, the FPO will open for subscription on January 27 and close on January 31. The price band is set at ₹3,112–3,276 and retail investors get a discount. The basis of allotment is likely to be known by February 3, unblocking of funds the next day and credit of shares to demat account by February 5. The listing of the shares is expected by February 8.
Hindenburg report

The share price of several Adani companies fell on Wednesday after Hindenburg Research made several allegations against the group. It said four of Adani's listed companies are on the de-listing threshold due to high promoter ownership.
The report also said that five companies in the group (all but Adani Ports and Adani Wilmar) have current ratios below 1.0, suggesting an increased short-term liquidity risk.
Allegations denied

Adani Group denied all the allegations and said that the report was published with malicious intent.
Jugeshinder Singh, Chief Financial Officer, Adani Group, rubbished the report saying that it was published "without making any attempt to contact us or verify the factual matrix".
The timing of the report's publication clearly betrays a brazen, mala fide Intention to undermine the Adani Group's reputation with the objective principal of damaging the upcoming follow-on public offering from Adani Enterprises, the biggest FPO ever in India," he said.