The logistics sector in India is highly fragmented, with unorganised players having a large chunk of the market whereas organized players still constitute less than 20 per cent of the overall pie. This gives huge scope for organized players to expand their reach. Solid long-term prospects for Indian economy, growth in consumption and e-commerce trends bode well for the sector, especially the organized segment. Mahindra Logistics is one such third party logistics player involved in supply chain management, freight forwarding and express services.
At bl. portfolio we had recommended that investors book profit in the stock in June 2021, when it was trading at around ₹571. With a little over 35 per cent correction since then, the valuation is getting more reasonable now. The company is currently trading at a forward EV/EBITDA of 9.5x and at a good discount against its 5-year historical average of 15.4x. Its competitors, such as Transport Corporation of India and Delhivery, are trading at one-year forward EV/EBITDA of 10.6x and 176.9x. While one-year forward PE of Mahindra Logistics is at 47.3x, given the company has been in investment phase, EV/EBITDA is a better metric to assess Mahindra Logistics.
Given good long-term business prospects, we recommend that investors with a long-term horizon can accumulate the stock now on dips. While the valuation is reasonable, given uncertainty on impact of inflationary pressures and spillover effects of global slowdown, we believe accumulating on dips is better than buying at one go.
Business

The core business of the company is contract logistics, also known as third party logistics (3PL), accounting for around 78 per cent of revenue. The company provides logistics support to its clients, including warehousing and end-to-end transport solutions. It has more than 19 million square feet of warehouse space under management and over 500 operating locations across the country. These warehouses include a mix of built-to-suit, dedicated, and multi-user warehouses.
Mahindra Logistics has deployed customized Material Handling Equipment (MHE) as well as extensive automation and is proficient in handling the existing warehouses for clients to optimize their functioning. It has integrated its warehouse management system (WMS) with clients' ERP to ensure transparency. The warehousing services primarily include inventory control, storage management and value-added services.
The company uses Transport Management System (TMS) to consolidate load and optimize routes to manage costs. It deploys more than 15,000 vehicles every month and offers transportation solutions to clients across industries.
The second business division is B2B express logistics. Its pan India reach is across more than 19,000 pin codes, which covers most of the country, and carried an average volume of more than 30,000 tons in the past year. The company also has more than 300 transshipment hubs and around 1,100-line hauls (long distance) and mid-mile trucks.
In October 2022, Mahindra Logistics acquired Rivigo Express, a major express service provider, for ₹225 crore. It expects to utilize the existing network of Rivigo to augment and expand its express service division. The company started the consolidation process of Rivigo business with itself in Q4FY23, which is expected to lead to cost optimization and bring in operating leverage. It expects the EBITDA of express business to be positive from Q3FY24.
The third business division is Freight and Forwarding — which is planning and coordinating the movement of goods across borders for other shippers. Mahindra Logistics offers air freight, ocean freight and project logistics (transportation of cargo to a specific construction site) as well. In Q4FY23 it was stated that this division faces pricing pressure and therefore, to maintain profitability, the company is focusing on volume growth. The company handled more than 13,000 TEUs (twenty-foot equivalent units) ocean freight and more than 4,900 tonnes of air freight in FY23.
The next division is mobility and last-mile delivery — delivery of the shipment to the final recipient. The company offers pick-up vans (with drivers) or delivery bikes as per the requirement of the customer for the completion of the delivery or pick-up of goods.
The mobility business offers transport solutions where it leases vehicles to enterprises with trained drivers, provides cab services and also outstation trips.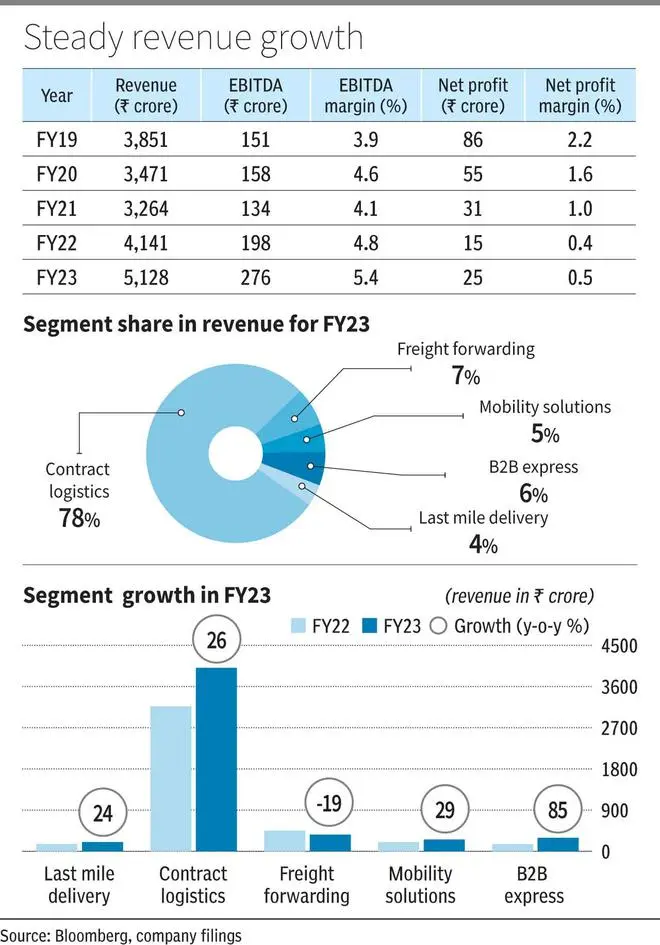 Financials

Mahindra Logistics' revenue grew 24 per cent in FY23 on a yoy basis to ₹5,128.3 crore. EBITDA rose 39.3 per cent yoy to ₹275.6 crore and the EBITDA margin rose 60 basis points to 5.4 per cent. Net profit in FY23 increased 63 per cent YoY to ₹24.6 crore.