Half the time, I loathe wearing a watch. It doesn't matter if it's the beautiful mother-of-pearl dial Timex that my partner gifted me or the latest smartwatch in town that I'm reviewing. Something about the sensation of having a leather or silicone strap wrapped around my wrist for extended periods of time irks me. I can go to sleep wearing a smartwatch or spend a day at work wearing one, never both in succession.
However, last week, I found myself in a room full of women, all sporting Apple Watches – and claiming to have done so for months or years on end.
In this closed-door event with 12 women invited – including celebrities, actresses, sportswomen, and singers – it was the host, in particular, who really stood out. Sumbul Desai, Vice President of Health at Apple dressed in workout wear, as we all were, stood strong and lean in what you'd describe as the quintessential runner's physique.
Desai heads health initiatives that include clinical product development and medical research at Apple. It's her team's work that is ultimately simplified and incorporated into Apple's smartwatches as health and fitness apps.
Desai's pivot into medicine – from engineering – was triggered by her mother having a stroke. Having to be her mother's caregiver and advocate at hospitals made her realize how women neither have much information nor agency when it comes to their health. Hence, it's no mere coincidence that a big chunk of her work at Apple is now about prioritizing women's health.
On the mat

With clean, gray yoga mats rolled out, it's time to tap into this technology. With the watch strapped on, we stretch and bend to the tunes of Anshuka Parwani, a celebrity yoga trainer. The beats per minute on my Apple Watch tick up as time ticks on. The more we twist and turn, the closer some of us get to "closing the rings" for the day. That's Apple-speak for a set of visual rings that indicate calories burned, brisk activity, and how many times I've stood up during the day.
Secretly hoping I'm not the only one about to break into a sweat, I look around and see a fellow participant to my left breezing through the asanas. She'd earlier shared that she's been a runner since she was 15, and now religiously tracks her heart rate on the Apple Watch. If it's lower than the usual 60 beats per minutes when she wakes up, she tweaks her fitness plan for the day accordingly.
Two other participants share how sensitive they are to noise, and find it super useful when the Watch alerts them to louder-than-normal decibel levels in their environment. Yet another shares how the Watch alerted her to an impending panic attack, by notifying her when her heart rate hit an unusually high during work hours.
Let's talk periods

Apart from these health markers, a special area of ​​focus, for Apple, seems to be the well-being of menstruators. "Menstrual cycles are windows into our health; they can even lead to the detection of many conditions, both gynecologic and systemic," says Desai.
Apple Watch users would know that the device – like many other smartwatches – helps them log and track their menstrual cycle, cycle deviations and cycle symptoms.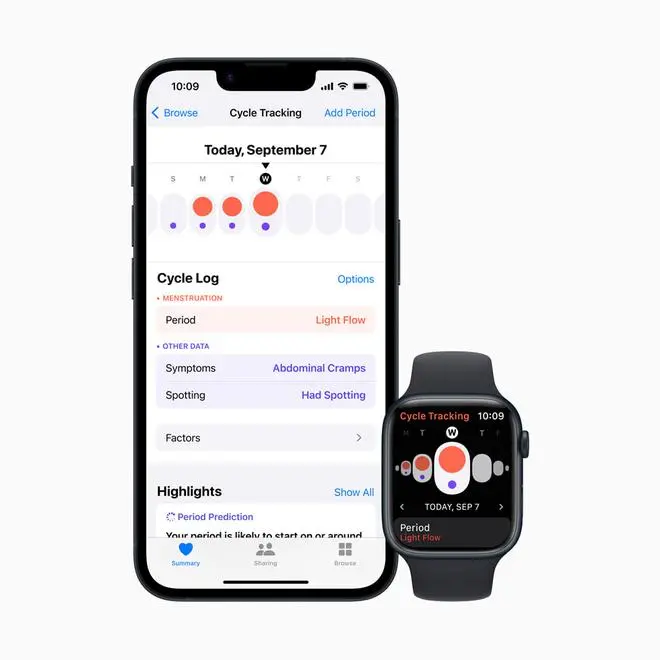 Diving deeper into these aspects is the ongoing Apple Women's Health Study. With consensually collected data from over 50,000 menstruators, the study is around deepening the link between menstrual cycles and health conditions such as PCOS (polycystic ovary syndrome), infertility, and menopause.
"We envision a world where everyone with a period sees it for what it is: an amazing insight into their health that should be celebrated, not stigmatised," says Desai. The latest research shows that almost 12 per cent of the participants who'd logged their symptoms eventually received a PCOS diagnosis. Participants with PCOS had more than four times the risk of endometrial hyperplasia (precancer of the uterus) and more than 2.5 times the risk of uterine cancer. These health parameters are easily logged on the Apple Watch – and not limited to menstrual tracking – can be easily exported and shared with a doctor over the mail.
Desai harbors no doubts about the fact that the data and alerts from the smartwatch do not replace medical assistance. So, while using the Apple Watch, every day, may not keep the doctor away, it surely does equip you with a tonne of health data to share when you do seek medical help.