I hold F&O long positions on Nifty futures (two lots) and Reliance Industries (one lot). Need your views and targets for the same.
Mayor Patel
Nifty 50 (18,069): The trend has been bullish for the index of late. The Nifty futures, at 18,130, is at a premium to the spot price of 18,069, which is a positive signal. However, last week, it faced some downward pressure towards the end, and we could see some bearish indications with respect to derivatives data (refer F&O Tracker column to know more). While the overall trend is still bullish, as it stands, there is a chance for a correction — the Nifty 50 might dip to 17,800.
Consequently, Nifty May futures could see its price moderating to 17,950. So, we suggest holding the longs but buying a put option as a hedge. You can buy two lots of 18000-strike put, preferably monthly expiry. But when the Nifty futures decline to 17,950, exit the put and continue to hold the futures long. Because after such a correction, we expect the index to resume the upside. However, if the Nifty 50 index sees a daily close below 17,800, exit the future long positions too at the prevailing price.
Reliance Industries (₹2,441.8): The May futures of Reliance Industries closed at ₹2,454.95 on Friday as against the spot price of ₹2,441.8. Thus, the futures are at a premium, a positive sign. However, this does not guarantee a rally as the stock faces a crucial resistance. The underlying, currently at ₹2,441.8, has a 200-day moving average resistance at ₹2,475. So, this level should be breached for the stock to continue its uptrend.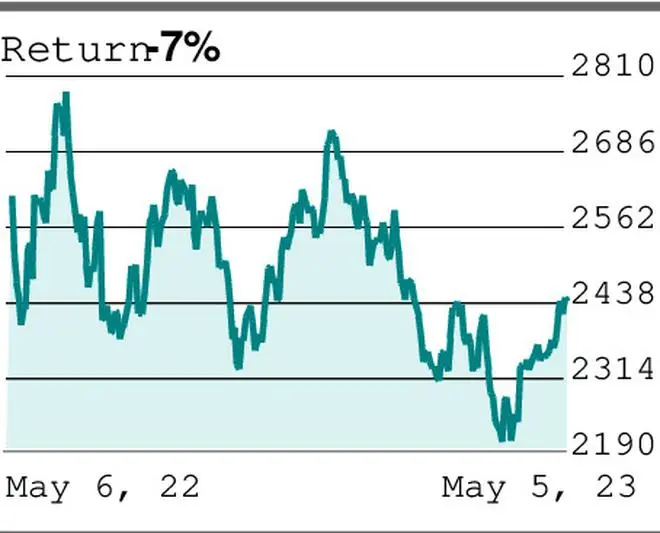 That said, there is a support at ₹2,415. Therefore, we suggest holding the futures long but with a tight stop-loss — keep a stop-loss at ₹2,400. In case the stop-loss is triggered, wait for the underlying stock to break out of ₹2,500 before taking fresh longs.
Send your queries to derivatives@thehindu.co.in