Bangladesh continues to have higher per capita GDP when compared to India till 2022, latest data from International Monetary Fund (IMF) revealed. However, India is estimated to have edge in the next two years over Bangladesh to take the lead again at least data till 2028, estimates by the agency indicated.
The key reason for such a trend for Bangladesh could be higher growth boosted by strong external demand. Also, the country has not faced contraction even during Covid-19. Though India has recorded the fastest growth, it faced contraction in FY21, and during the current fiscal growth is estimated to slow down when compared to the previous fiscal.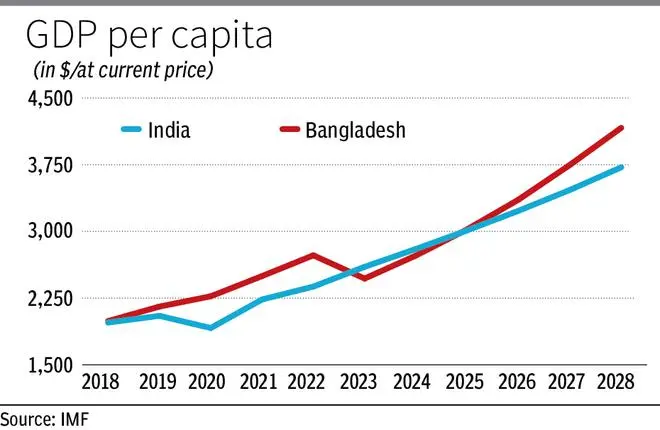 Commenting on the trend, former Chief Economic Advisor, former Chief Economist of World Bank, and now Professor of Economics at Cornell University, Kaushik Basu, said with the new World Bank-IMF data coming in, it's clear that Bangladesh's per capita income has been higher than India's since 2019. "This would have been unthinkable 10 years ago. We mustn't grudge a developing nation doing well. But we must pay more attention to data & science," he said in tweet.
World Bank, in its country overview for Bangladesh, says the country has a strong track record of growth and development, even in times of elevated global uncertainty. "A robust demographic dividend, strong ready-made garment exports, resilient remittance flows, and stable macroeconomic conditions have supported rapid economic growth over the past two decades," said World Bank.
Also read: Japan proposes an industrial hub in Bangladesh with supply chains to India
On Sunday, IMF said its staff team completed a staff visit to Dhaka. Post that a statement issued by IMF's Mission Chief for Bangladesh, Rahul Anand, said, "Against a challenging economic backdrop, Bangladesh remains one of the fastest-growing conflicts in the Asia-Pacific region." However, the statement noted that persistent inflationary pressures, elevated volatility of global financial conditions, and slowdown in major advanced trading partners continue to weigh on growth, foreign currency reserves and the taka (the sovereign currency).
Meanwhile, Asian Development Bank (ADB) has cut Bangladesh's GDP growth forecast to 5.3 per cent for FY24 to 5.3 per cent from 7.1 per cent in the last fiscal. In its latest Asian Development Outlook, ADB says the slower growth forecast reflects subdued domestic demand and weaker export expansion due to slow global growth following the Russian invasion of Ukraine. "The main risk to this growth projection is a greater economic slowdown in Bangladesh's major export destinations driven by global uncertainty over the prolonged political tensions," said ADB.
For India, too, ADB cut its growth projection to 6.4 per cent from 7.2 per cent (as announced in December) for FY24. "The growth moderation in FY23 is premised on the ongoing global economic slowdown, tight monetary conditions, and elevated oil prices," the agency had said. World Bank, too, lowered growth projection to 6.3 per cent from 6.6 per cent, while the RBI has upped the growth forecast to 6.5 per cent from 6.4 per cent.