The Union Budget for fiscal year 2023-24 may provide one additional installment under Pradhan Mantri Kisan Samman Nidhi (PM-KISAN) to make total payment of ₹8,000 per year per farmer.
Two senior government officials said that proposal is under consideration. One of them said that on the one hand rise under PM Kisan will boost rural consumption, at the same time farmers will have some comfort in meeting rising price. Second official added that as revenue position has improved, so providing an additional amount likely to pose a challenge for fiscal.
The genesis of the PM-KISAN Yojana dates back to the interim Budget for 2019-20. While announcing the scheme, then acting Finance Minister Piyush Goyal had said: "PM-KISAN would not only provide assured supplemental income to the most vulnerable farmer families but would also meet their emerging needs especially before the harvest season. PM-KISAN would pave the way for the farmers to earn and live a respectable life."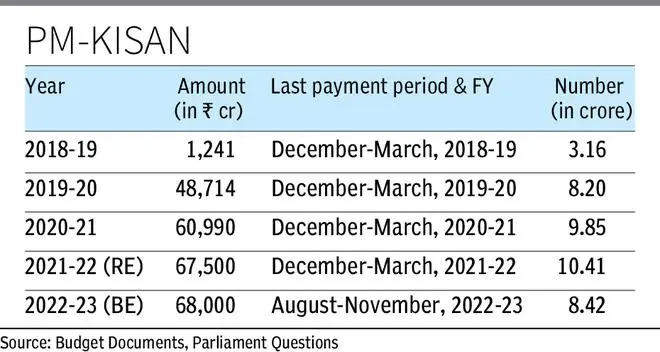 Key element

The key element of the scheme is income support of ₹6,000 in three equal installations in a year. Initially, it was for small and marginal landholder farmer families with cultivable land holding up to 2 hectares across the country. However, in the first meeting of the Cabinet after the formation of Modi Government for the second term in 2019, it was expanded for all 14.5 crore farmers.
The amount is being released in three 4-monthly installations of ₹2,000 each over the year, to be credited into the bank accounts of the beneficiaries held in destination banks through Direct Benefit Transfer mode. One of the key conditions is that the beneficiary farmer family must own cultivable landholding
PM KISAN is Central sector scheme with 100 per cent funding from Government of India. There are various exclusion categories for the scheme. Accordingly, all institutional land holders, farmer families of all present and past MP, MLA/MLCs, former and present Chairpersons of District Panchayats, serving and retired government employees, income tax payers and professionals such as doctors, engineers, lawyers, chartered accountants will not be eligible for the scheme.
The scheme allows continuous registration of new benefits. States/UTs identify and verify the beneficiaries under the scheme. To help the States/UTs for automated validation of the beneficiaries' data, PM-KISAN portal has been integrated with the portals of Unique Identification Authority of India (UIDAI) for Aadhaar authentication; with Public Finance Management System (PFMS) for validation of account and Government employees/pensioners data; with Income Tax Department for validation of income tax payee status; and with National Payment Corporation of India (NPCI) for Aadhaar-based payments. Further, farmers can also edit their names in PM-KISAN database as per their Aadhaar card through the 'Farmers Corner' at PM-KISAN portal and app.