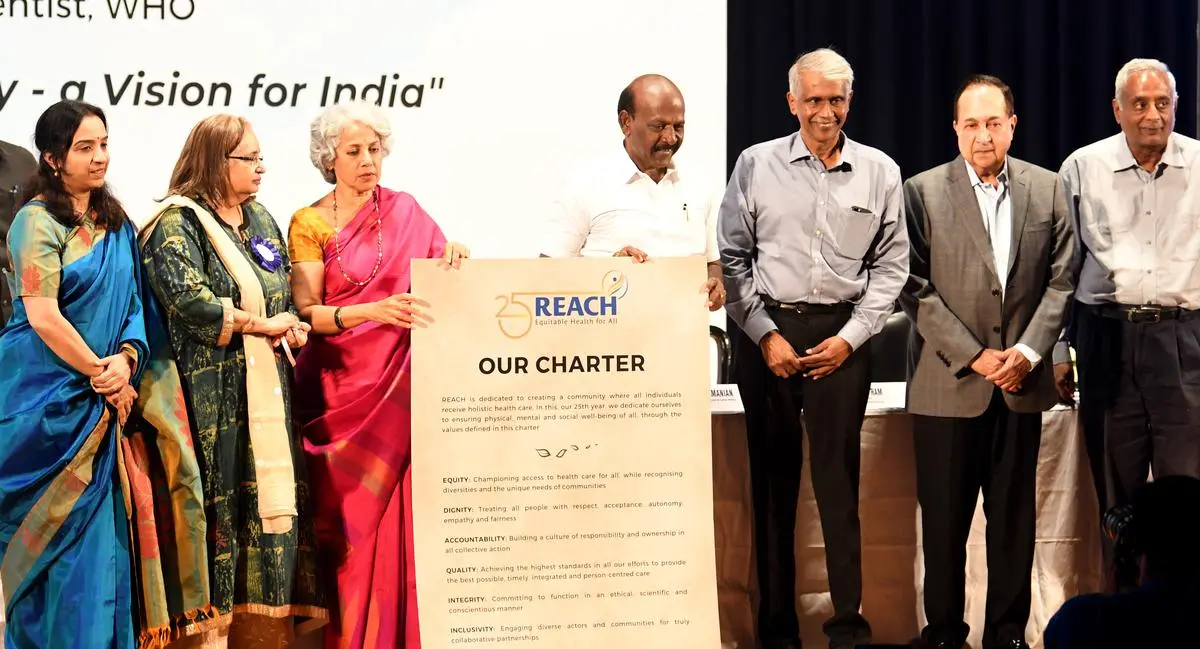 Ma Subramanian, Minister for Health, TamilNadu unveiled the new logo for REACH during the 25th year commemoration held in Chennai on Friday. (from left) Ramya Anantakrishnan, Director, REACH; Nalini Krishnan, Executive Secretary & Co-Founder, REACH; Soumya Swaminathan, Former Chief Scientist, WHO; Sivamurugan, REACH Executive Committee; N Ram, Director, The Hindu Publishing Group; and Rajevan Krishnaswamy, President, REACH Executive Committee | Photo credit: RAGHUNATHAN SR

Dr Sowmya Swaminathan, former Chief Scientist and former Deputy Director General at the World Health Organization, today called for the development of new vaccines against tuberculosis (TB), because "only with vaccines you can control the disease."
Delivering the '25th year oration' on the occasion of the 25th th Year Commemoration of REACH, a not-for-profit organization that works towards 'TB-free India', Dr Swaminathan noted that the existing TB vaccine—the BCG—was a century old.
She expressed dismay at the continued prevalence of the disease, as shown by a recent survey. Today, there are 300 confirmed TB patients for every 100,000 people—the same as what it was in 1991. "We must think about why we have not been able to make a dent," she said.
Calling for a 'science-based approach' towards TB control, she called for more extensive use of X-ray machines, especially because today there are hand-held X-ray machines. X-ray machines, while not being specific, are very sensitive and can pick up lessons.
Dr. Swaminathan also said that access to molecular tests must increase. She observed that during the Covid-19 pandemic some 900 million RT-PCR tests could be done in India. If that was possible in such a quick time, why not for TB?
She observed that another ailment—anaemia—has "not budged" for decades. Recalling Albert Einstein's words that doing the same thing repeatedly cannot yield different results, Swaminathan said that 'health' had to be looked at holistically—including health education, mother's health, nutrition etc.
She also stressed that the government should regulate the food industry better (so as to discourage high fat foods etc).
Stressing on equity (as opposed to equality) in healthcare, Swaminathan said "our vision for 2047 is to achieve equity in health and education".
Earlier, introducing Swaminathan to the audience, N Ram, Director, The Hindu Publishing Group, praised her "outstanding contribution" in Covid-19 control, when she was with the WHO. He also said that her lectures and speeches were "a model of clarity in communication."
Tamil Nadu's initiative

Tamil Nadu's Health Minister, Ma Subramanian, who was the Chief Guest of the function, spoke about the State government's efforts towards making the State "TB free by 2025", which included ' veedu thedi maruthuvam(or healthcare at the doorstep).
He said that the government last year purchased 28 vehicles fitted with digital X-ray equipment for ₹13 crore. Using these, so far 96,500 people were diagnosed with TB and given medicines.
REACH (Resource group for Education, Advocacy and Community Health), was established in 1998-99 by leading scientists and experts in Chennai, led by Prof MS Swaminathan, eminent agriculturalist and former Rajya Sabha member. Dr Nalini Krishnan, Director, The Hindu Publishing Group, is its Executive Secretary. Pointing out that TB "is still a challenge", Dr Krishnan said now was the "best time in history of TB control to redirect, change our outlook and achieve our common goal of creating a TB-free world."
es.
REACH also engages 'TB Champions' — people who are cured of TB – to play a part in the advocacy, mainly to remove the stigma attached to TB. At the job today, one Ms Poonkodi of Vellore, a TB champion, said that the disease could really be fully cured in six months.