Tata Steel has reported an 84 per cent downtick in its net profit in the March quarter at ₹1,566 crore as against ₹9,835 crore logged in the same period last year, largely due to lower realisation and higher cost.
The company has also declared a dividend of ₹3.60 per share. Sales during the quarter under review were down at 7.78 million tons (8.01 mt) while production increased to 7.80 mt (7.62 mt). Income dipped 9 per cent to ₹63,131 crore (₹69,615 crore). Overall expenses increased to ₹59,918 crore (₹57,636 crore).
EBITDA was down 54 per cent at ₹7,225 crore (₹15,891 crore) while EBITDA per tonne dipped to ₹9,288 (₹19,832).
For the full year FY23, the company reported 81 per cent decline in net profit to ₹8,075 crore (₹41,749 crore) as turnover remained almost static at ₹2.43-lakh crore (₹2.44-lakh crore).
TV Narendran, Managing Director, Tata Steel, said the company has multiple ongoing projects at various locations which should take the production capacity to 40 mtpa by 2030. The phased commissioning of expansion at Kalinganagar continues with FHCR coils now being produced at the CRM complex. In the nine months of acquisition, the company has ramped up Neelachal Ispat Nigam to 1 mt capacity on an annualised basis.
Reducing emissions

During the quarter, Narendran said Europe deliveries were up 9 per cent quarter-on-quarter. The cold mill upgrade at Ijmuiden is progressing and the relining of BF6 has commenced in early April. "Our route and pace of decarbonisation across geographies will be calibrated for each location based on the local regulatory framework, government support and willingness of customers to pay for higher cost green steel," he said.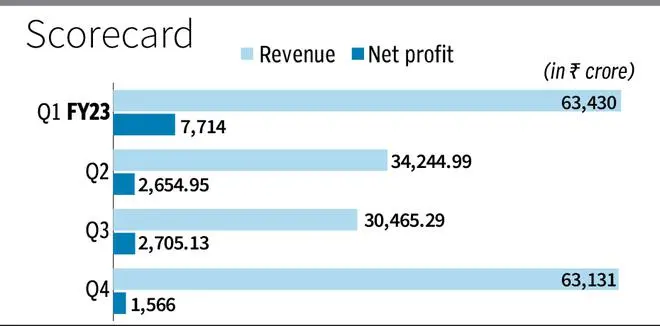 The company is pursuing multiple initiatives to reduce emissions, including a recently initiated trial for injecting large quantities of hydrogen into blast furnaces at Jamshedpur, which he added. Tata Steel has incurred a capital expenditure of ₹4,396 crore in the March quarter, largely in Kalinganagar expansion. Free cash flow was at ₹4,809 crore. The company's gross debt was at ₹84,893 crore while net debt stood ₹67,810 crore.