Ending uncertainty over the procurement of rabi paddy from Telangana, the Union Government has given the go-ahead for the procurement by the State Government.
It, however, asserted that it would procure only raw rice and not parboiled rice as the state has been procuring in the rabi season for years.
It's a big relief for the State Government and about 60 lakh farmers, who reaped a bumper harvest in the summer season. Despite the tussle between the Center and the State over the issue of procurement of parboiled rice, the farmers have grown paddy in over 23.50 lakh hectares in the rabi season.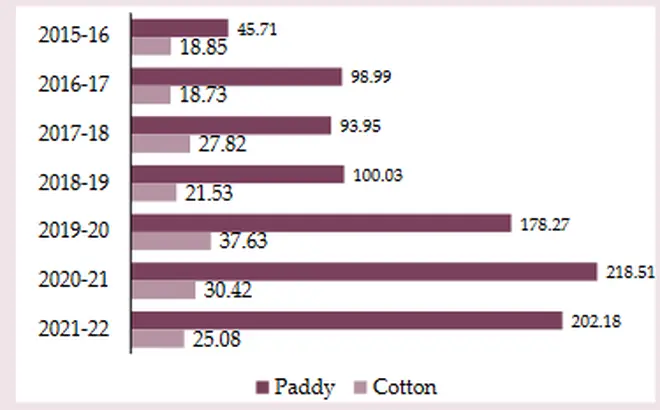 Production of paddy and cotton (in lakh tons) between 2015-16 and 2021-22.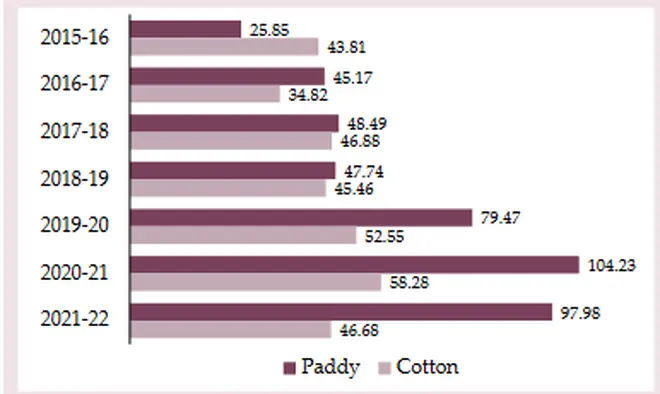 Area under paddy and cotton (in lakh acres) between 2015-16 and 2021-22

According to preliminary estimates, the state is going to produce 1.30 crore tonnes of paddy, requiring the Government to procure at least 80 lakh tonnes. Worried over the uncertainty on procurement, a high-level delegation went to Delhi to discuss the issue with the Ministry of Consumer Affairs and Food.
Much to their relief, the Center indicated that it would procure 80 lakh tons or about 55-57 lakh tons of barring parboiled rice, which has no demand.
"The problem here is the conversion rate (quantity of rice milled from 100 kg of paddy) is quite low than that of kharif rice. Due to harsh temperature while harvesting, the grain turns brittle and yields less quantity of rice compared to the kharif season," a miller said.
While kharif paddy gives 66-68 kg of rice, rabi paddy gives only 60-62, making it less remunerative for millers.
The state procured about 60 lakh tonnes of paddy in the kharif by spending ₹11,000 crore.
Betting big on paddy

The Center and the State engaged in a verbal duel last year over the procurement of parboiled rice last year, giving some anxious moments to the farmers. After weeks of deliberations, the Center finally agreed to procure the rice.
But the sudden developments turned favorable for farmers. With the Center scouting for huge rice quantities to feed the PMGKAY (PM Garib Kalyan Ann Yojana) scheme, the farmers sensed the opportunity and went ahead to grow paddy in a record area.
As against 14 lakh hectares in the last rabi, they grew the crop in 23.50 lakh ha. Backed by a favorable weather, they are set to produce 1.30 crore tonnes.
Paddy production up

Paddy production in Telangana has gone up by nearly 3.5 times over the last six years. From about 45.71 lakh tonnes in 2015-16, the output went up to 2 crore tonnes, making the State the second-largest supplier to the Food Corporation of India (FCI).