A mix of styles to upgrade your fall looks.
Special thanks to Amazon for inviting me to be a part of this sponsorship.
Fashion trends are cyclical, and so it seems, are consumer habits. Lots of guys prefer to do their clothing shopping online – it cuts out the need to lose an afternoon (or longer) driving around to different stores and wading through racks of things you're not interested in, trying to find your color, in your size. The trade-off to only shopping online, of course, is you lose the ability to try things on in person and decide if you want it before you buy it.
That's one of the big reasons Amazon has created their new Amazon Style store locations. Capitalizing on a smart curation of their fashion items and creating a revamped technology-led in-store shopping experience, the Amazon Style stores combine the best parts of online shopping with the advantages of shopping in person; while cutting down on the drawbacks of both in the process.
It makes use of QR codes to automatically send your size and color to a fitting room. Plus, they have full outfit inspiration throughout the store, so if you dig the whole look, you can request it with the app and it will be waiting for you when you get to the fitting room. Once in the fitting room, a touch screen allows you to request different sizes or items, and they'll be placed in your fitting room closet from the other side of the wall. If you haven't seen my Instagram Reel where I show how neat it is, you have to give a watch.
Since the items that are put in your fitting room are the ones you actually buy, the store floor only needs to have one of each item as a display piece. It's way easier to see the selection and you don't have to slog through a whole rack looking for the last remaining one in your size. It creates an experience where you get to just poke around looking at things, and easily request your size to be sent to a fitting room.
That's why I was super stoked when the team in charge of the effort reached out to me about partnering to style some outfits that are featured in the store as inspiration.
What impressed me beyond the reimagining of the shopping experience, is the intentionality behind the selection of products. There's a range of not only style aesthetics from more timeless pieces to trendier picks but also a large selection of items in varying price tiers. You can try some of the house lines in person like Goodthreads and Amazon Essentials, or decide if upgrading to brands like Vince, Theory, or John Varvatos makes sense for what you're looking for.
Below are 3 of the outfits that I put together, each a different use and all in the Primer style.
Modern Casual
In some ways, as we get older, figuring out what to wear to any given thing gets harder. Our work clothes can be a little too work-y, our casual clothes not put-together enough for some weekend social obligations. This modern casual outfit is intentional but still clearly subtle, comfortable, and easy-going.
It's anchored in the blue of the Levi's trucker jacket, a casual icon for over 100 years. The muted brown chinos keep things lightweight for the day, and the black suede slip ons ground the style in a modern, minimalist edge.
Athletic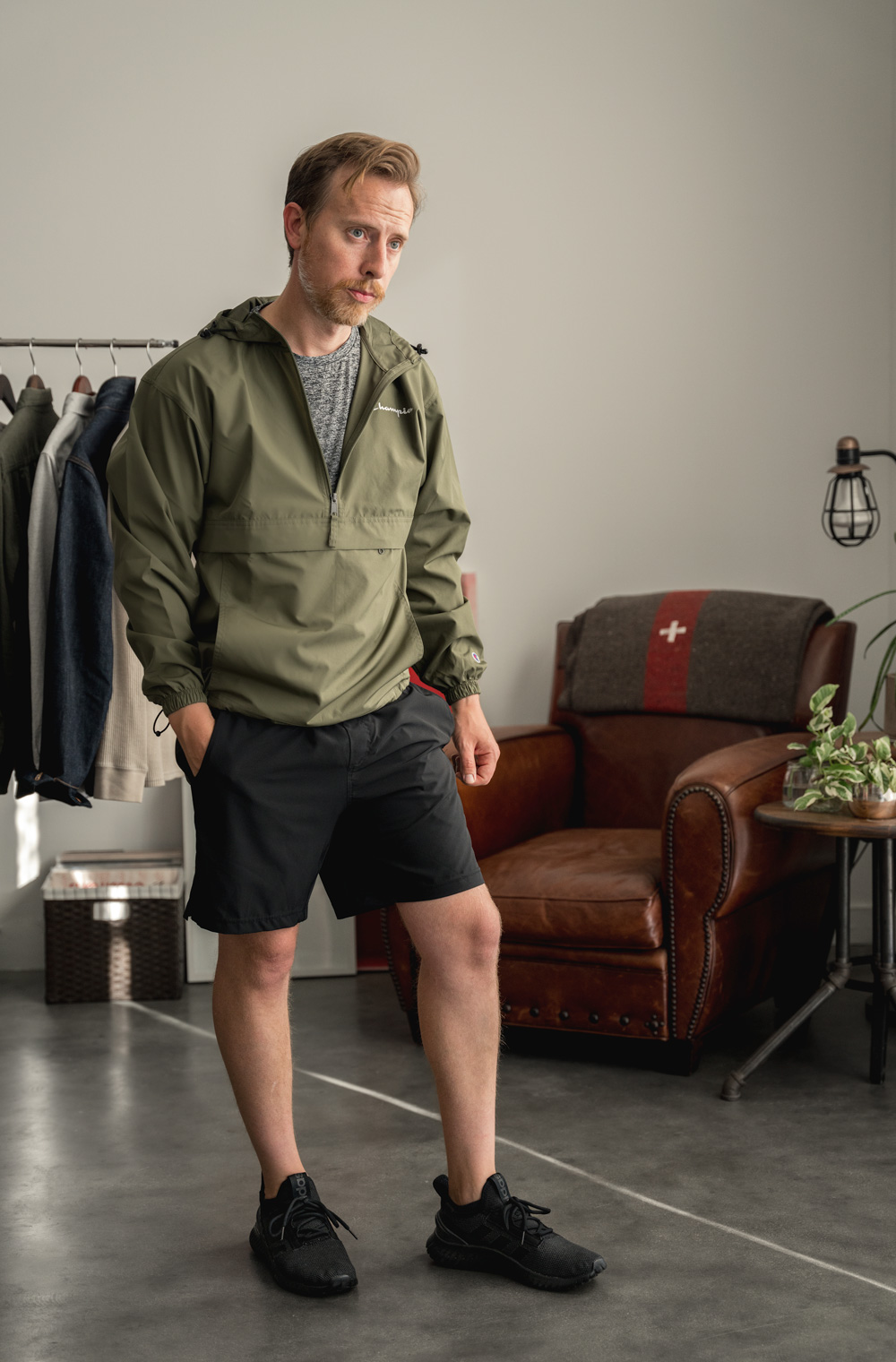 For many workouts, any t-shirt and shorts might suffice, but there are some occasions when your exercise gear needs to be on point just like the rest of your style – a run or hike with the bosses at a work retreat or a fitness- related date are two obvious examples that come to mind.
For situations like that, you want your gear to enhance your exercise and reflect your intentionalism and be budget friendly. This outfit is perfect for that: The mottled gray Under Armor shirt and 10% stretch Amazon Essentials shorts are under $25, the packable Champion windbreaker is under $30, and the low-key cool, mega comfortable all-black Adidas Kaptir are just over $60 .
Minimalist Evening Out
Outfits like this one are my favorite kind of looks. Super simple but really refined. It's a mixture of dress levels that makes you ready for 90% of things and for the other 10% a simple shoe or pant swap is all that's needed. Minimalist, earth tone outfits in purposefully fitting items truly are the secret to dressing well and easily.
This topcoat is a steal for a guy who is curious about the style but won't justify a higher priced option. It's shorter than many easily found knee-length topcoats, which makes it way easier to throw on over top of a not-dress-up outfit for that cool, fall smart casual. It's got a unique collar, where the neck part is thinner than the lapel, also contributing to its ability to be worn more casually, as well as being able to pop it up without being so large that it makes you look like a 19th century sailor . (Though I'm totally down for that.)
The 100% Merino wool sweater from Goodthreads in this muted brown tone is lightweight and soft and makes a great solo piece or as a comfortable layer over a button up shirt.
Which look do you like best? To see more of my outfits, head to the Amazon Style Store now open in LA and Columbus.