Rediscover effortless cool, a simple solution for a stylish, sophisticated look.
The art of mastering the monochromatic look is to create an ensemble that's striking yet effortless, engaging yet simple.
The aesthetics of this outfit, however, extend beyond simplicity. A monochromatic look traditionally exudes an air of sophistication and elegance, think tuxedos and formal suits. Translating the effect to summer, this gray and black getup creates a sleek, modern, and cohesive look that whispers of style and grace, without being dressy or hot.
The versatility of monochromatic outfits adds to their charm. You can easily modify this outfit to suit any occasion – whether it's a casual day out or a semi-formal evening event. And when the color scheme is consistent, it allows other elements, like textures and fabric quality, to be more pronounced. The linen shirt, suede sneakers, and silver watch all bear faith to this.
Long Sleeve Linen Shirt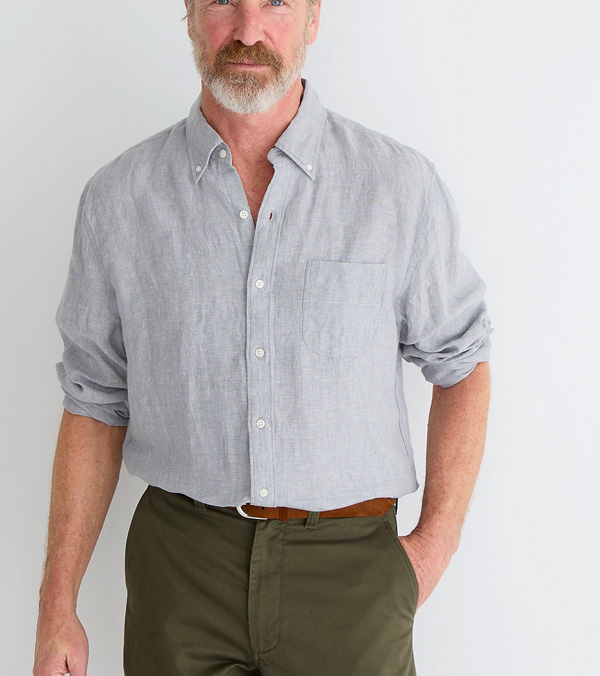 Crafted from Baird McNutt Irish linen, this tailored-fit shirt is a summer essential. Its lightweight nature ensures you stay cool and fresh, while the soft fabric offers an incredibly comfortable fit. The shirt stands out, not only because of its cut but also because of its unique texture – a key advantage of linen that adds depth and interest to the outfit, compensating for any lack of layers or colours.
Worried about maintenance? The beauty of linen lies in its easy care and durability. Its natural creases and wrinkles are part of the appeal. For a deeper dive into the world of linen, don't forget to check out Primer's guide to linen for the modern man.
5″ Core Temp Shorts
These shorts, a mix of 55% cotton, 39% recycled polyester, and 6% spandex, offer comfort and a light feel, perfect for the summer heat and are a notable modern contrast to the traditional linen in the shirt. The 5″ inseam length, a great fit for those who aren't shy about showing a bit of leg.
Interestingly, they feature "37.5 Technology" which uses particles derived from volcanic sand to help regulate temperature, warming or cooling as required, an ingenious addition to a pair of shorts. Plus, they dry quickly – a practical bonus.
Espadrille-inspired sneakers
If you're more of a summer sneaker guy than an espadrille guy but still want some of the classic style of the European-originated staple, these black suede sneakers feature a sole with traditional jute decoration on the sidewall making these a little more Spanish coast than Vans.
Plus unlike the simple (re:harder) soles of traditionally made shoes, these incorporate a memory foam insole for added comfort.
Watch
Drawing inspiration from American field watches and the iconic 1940s British "Dirty Dozen" watch, this timepiece offers a subtle nod to historical aesthetics while maintaining its contemporary appeal.
The most notable feature is its unique two-tone gray and cream dial, a design choice that's reminiscent of vintage military aesthetics, which beautifully complements the gray fabric strap. Both stylish and comfortable, the strap adds a touch of understated elegance to the watch. Housed in a 40mm stainless steel case with a 20mm lug, the watch is not just visually striking but also durable.
I've got a previous Todd Snyder x Timex collaboration and I love it.
Braided bracelet
I'm a big fan of bracelets in the summer as a way of expanding the composition of simple warm weather outfits. I like options that are classy and simple. This 2mm bungee rope bracelet has a subtle pattern and silver accents on the pull-to-size ends.
Sunglasses
Simple and understated – and more quality than a gas station pair without the price of the Persols of the world.
Like this outfit? Chat with me in the comments!