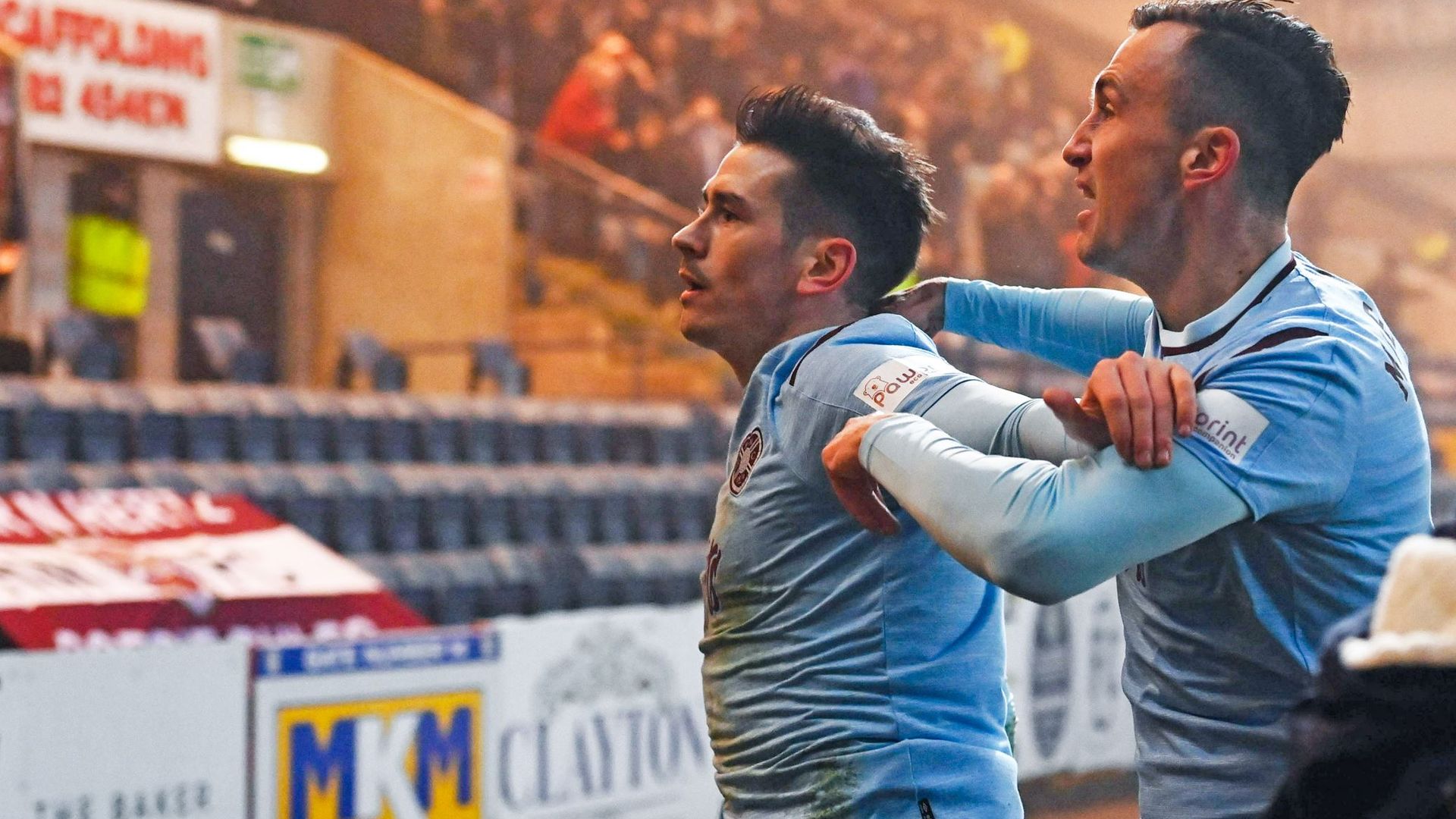 Hearts are back in their Premier League winning ways with their 1-0 win over Dundee at Dennis Park.
Substitute Jimmy Walker scored the only goal in the second half.
The result cemented Edinburgh's dominance of third place in the table, but for a deeply under-complied team Dundee, it was their fourth consecutive defeat.
The hosts were deeply affected with a whole host of players out through injury and suspension while Jason Cummings was also absent from the squad for disciplinary reasons as coach James McPeak was only able to name five players off the bench.
Missing hearts was the spell striker Liam Boyce.
The opening exchanges were more or less equal with both sides showing a lot of offensive intent without creating obvious openings.
Hearts created an opportunity in the 18th minute when they shot the ball towards Ben Woodburn, but the loaned Liverpool winger's shot crossed the cross of Dundee goalkeeper Adam Ligsdens.
Soon after, Hearts had another chance when Barry McKay hit a corner kick from the right as the underdog Taylor Moore sent a powerful header wide.
Dundee fans then demanded a penalty as Lee Griffith fell to the grass inside the Hearts penalty area under challenge by John Sutter, but referee Willie Collum ruled there was no foul.
Half an hour into the match, it became an unexpected issue with a series of bad bugs that disrupted any chance of the gameplay flowing.
However, Dundee finally managed to produce a piece of quality in the 41st minute when Paul McGowan played Luke McCowan with Hearts goalkeeper Craig Gordon dropping to his right to protect his low wing shot.
A thick fog fell over Dens at the end of the first half as both teams struggled to move forward after the break.
Hearts had half a chance after the hour when Mackay sent Walker on the edge of Dundee but his shot was wild and flew wide.
Cami Devlin then had a chance, but his powerful shot hit the head of Dundee defender Liam Fontaine.
However, the visitors eventually scored the winning goal in the 75th minute.
McKay hit the sub-ball Aaron McNeiff on the edge of the Dundee area and although his skewed shot hit Ligzdens' post and ran back across the goal, Walker was the first to hit the high ball into the net.
Dundee had a late chance but Paul McMullan's shot was off.
What did the managers say…
James McPeak, President of Dandy: "he [Jason Cummings] He will be out of the club until Monday and then we will deal with him internally. He was unfit for training.
"People will decide for themselves why he won't participate today, but it's not because of injury or Covid. Should I raise my hand, maybe, I signed Jason.
"Overall for what he did – he helped us with the promotion and he did a good job – but what he did on Thursday is totally unacceptable.
"We will deal with him on Monday. He was unfit for training on Friday, so do I regret my decision? No."
"He never asked me to go to the event and would I have let him go? I never had a chance to answer that.
"Maybe I wouldn't be because of where we are, but I didn't get a compliment from that – so there's the first breach.
"Then he wasn't anywhere near fit enough to train on Friday morning. I found out about it at 7am on Friday, and I didn't see it on social media."
Robbie Nelson, President of Hearts: "I was happy to get three points because it's always difficult to be here.
"They have had a number of injuries but they still have an experienced squad.
"We controlled a lot of the game and although we didn't have a lot of clear chances, the ones we did took advantage of them.
"Jamie found it hard to get in because the guys who were in those positions were playing really well.
"He just had to take his time. I thought he and Aaron McNeev did a really good job when they came in.
"We brought in Jimmy because he had that quality at the last minute, and especially in the second half, we installed him a little bit in really good areas.
"We need someone with a little magic. Fortunately he produced it."
What then?
Dundee travels to Aberdeen, while Hearts host Ross County, where both Scottish Premier League matches kick off at 3pm on Boxing Day.