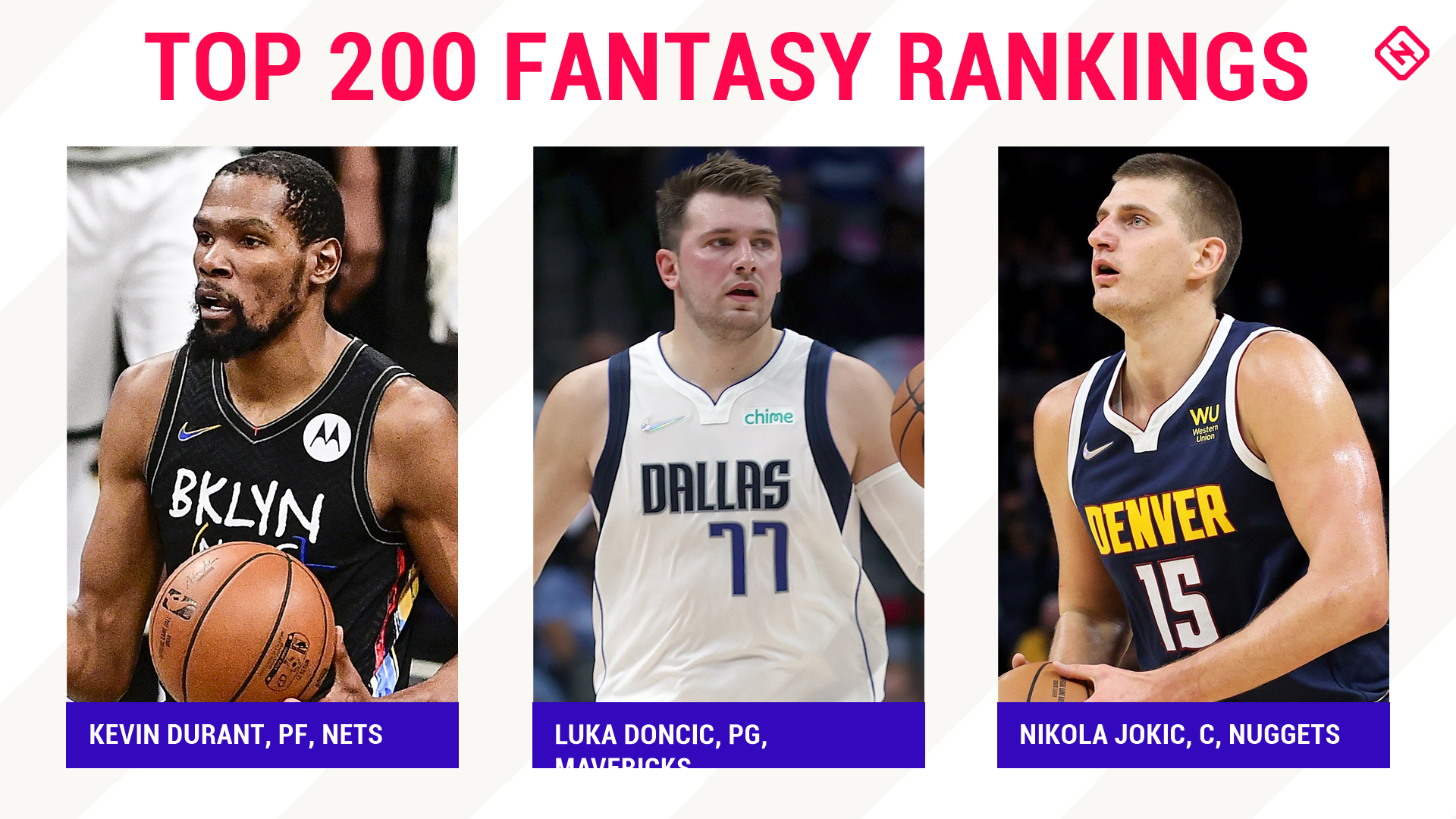 If you're feeling unprepared for your own fantasy NBA draft, we've got you covered with our top 200 fantasy basketball rankings for the 2021-'22 season. Should you take Nikola Jokic, Giannis Antetokounmpo, Luka Doncic, Kevin Durant, or James Harden with the #1 pick? What if the draft slot was late in the first round? Where is the rank of the Lakers teammates, LeBron James, Anthony Davis and Russell Westbrook? Once you delve deeper into the draft, which potential players should you target? Our top 200 cheat sheets can help with top class and late sleepovers.
Below, you can find each player with their current team, position eligibility, and position standings. Pay attention to players who qualify for multiple positions, as this can help with the flexibility of the menu and provide benefits in specific categories.
Dominate Your Draft: 2021 Fantasy Basketball Cheat Sheet
Injuries, sudden breaks, and more sudden breakouts will happen this year. They always do. You can only prepare a lot during your draft, but having the top 200 at your disposal — along with the rankings for each individual position (which can be found directly below) — can go a long way toward feeling good about your roster and having some big holes when the season ends on Tuesday, October 19.
Good luck in 2021!
2021 fantasy basketball rankings:
point guard | shooting guard | small forward | forward force | center
Fantasy Basketball Rankings 2021: Top 200 Cheat Sheets
Position eligibility depends on ESPN settings
Imaginary sleep: one from each team | Top 10 Draft Steals | best juniors
| | | | | |
| --- | --- | --- | --- | --- |
| Rank | player | Team | Location | center rank |
| 1. | Nikola Jokic | The | NS | C1 |
| 2. | Giannis Antikonmo | one thousand | PF | PF1 |
| 3. | Luka Doncic | from | PG | PG1 |
| 4. | Kevin Durant | BKN | SF/PF | SF1 |
| 5. | James Harden | BKN | SG/PG | SG1 |
| 6. | Russell Westbrook | LAL | PG | PG2 |
| 7. | Stephen Curry | GSW | PG | PG3 |
| 8. | Cities of Karl Anthony | Accurate | NS | C2 |
| 9. | Damian Lillard | by | PG | p 4 |
| 10. | LeBron James | LAL | SF / PF / PG | SF2 |
| 11. | Jason Tatum | Package | SF/PF | SF3 |
| 12. | Bring the youth | ATL | PG | priority 5 |
| 13. | Joel Embiid | PH | NS | C3 |
| 14. | Dumantas Sabonis | IND | NS | c 4 |
| 15th. | Pam Adebayo | Mine | NS | C5 |
| 16. | Jimmy Butler | Mine | SF/SG | SF4 |
| 17. | Bradley Bell | I was | SG | SG2 |
| 18. | Paul George | Latin America and the Caribbean | sixth | SF5 |
| 19. | Nikola Vucevic | spend | NS | C 6 |
| 20. | Anthony Davis | LAL | PF/C. | PF2 |
| 21. | Julius Randle | New York | PF | PF3 |
| 22. | Rudy Gobert | Utah | NS | C7 |
| 23. | Chris Paul | PHX | PG | priority 6 |
| 24. | Diaron Fox | bag | PG | PG7 |
| 25. | Chris Middleton | one thousand | SF/SG | SF6 |
| 26. | Zach Lavigne | spend | SG | SG3 |
| 27. | lamillo ball | No | PG | p 8 |
| 28. | Zion Williamson | No | PF | PF4 |
| 29. | Devin Booker | PHX | SG/PG | SG4 |
| 30. | Donovan Mitchell | Utah | SG | SG5 |
| 31. | Keri Irving | BKN | PG | p 9 |
| 32. | gilgus alexander tea | OKC | SG/PG | SG6 |
| 33. | Clint Chapel | ATL | NS | c 8 |
| 34. | Fred Vanfleet | TOR | PG / SG | p 10 |
| 35. | Jrue holiday | one thousand | SG/PG | SG7 |
| 36. | Jaylyn Brown | Package | SG/SF | SG8 |
| 37. | Dender Eaton | PHX | NS | C9 |
| 38. | Malcolm Brogdon | IND | PG / SG | p 11 |
| 39. | Christian Wood | ho | PF/C. | PF5 |
| 40. | Tobias Harris | PH | SF/PF | SF7 |
| 41. | Ja Morante | MEME | PG | p 12 |
| 42. | Ben Simmons | PH | PG | p 13 |
| 43. | Jonas Valančiūnas | No | NS | c 10 |
| 44. | CJ McCollum | by | SG/PG | SG9 |
| 45. | Kyle Lowry | Mine | PG | M 14 |
| 46. | Demar DeRozan | spend | SG/SF | SG10 |
| 47. | Michael Porter Jr. | The | SF/PF | SF8 |
| 48. | Gordon Hayward | No | sixth | SF9 |
| 49. | Kid Cunningham | The | PG | m 15 |
| 50. | Terry Roser | No | SG/PG | SG11 |
| 51. | Dignity Murray | sass | PG | M 16 |
| 52. | Miles Turner | IND | C/PF | C 11 |
| 53. | Brandon Ingram | No | SF/PF | sixth 10 |
| 54. | John Collins | ATL | PF | PF6 |
| 55. | OG Anunoby | TOR | SF/PF | sixth 11 |
| 56. | Richawn Holmes | bag | NS | C 12 |
| 57. | Anthony Edwards | Accurate | SG | SG12 |
| 58. | Lonzo Pool | spend | PG | PG17 |
| 59. | Karis Levert | IND | SG/SF | SG12 |
| 60. | Garrett Allen | Total | NS | C13 |
| 61. | Michael Bridges | PHX | SF/SG | SF12 |
| 62. | Galen Suggs | Nose, ear and throat | PG | M 18 |
| 63. | Pascal Siakam | TOR | PF | PF7 |
| 64. | Evan Mobley | Total | PF/C. | PF8 |
| 65. | Miles Bridges | No | SF/PF | SF13 |
| 66. | Darius Garland | Total | PG / SG | p. 19 |
| 67. | Mike Conley | Utah | PG | p 20 |
| 68. | Draymond Green | GSW | PF | PF9 |
| 69. | Klay Thompson | GSW | SG | SG13 |
| 70. | Jeramy Grant | The | PF / SF | PF10 |
| 71. | Joseph Nurkic | by | NS | C 14 |
| 72. | Galen Green | ho | SG | SG14 |
| 73. | Jamal Murray | The | PG / SG | p 21 |
| 74. | Jonathan Isaac | Nose, ear and throat | PF / SF | PF11 |
| 75. | Jackson Jr. years. | MEME | PF/C. | PF12 |
| 76. | Spencer Dinwiddy | I was | PG / SG | p 22 |
| 77. | Andrew Wiggins | GSW | SF/SG | SF13 |
| 78. | Marcus Smart | Package | PG / SG | PG23 |
| 79. | Kimba Walker | New York | PG | p 24 |
| 80. | Christapps Porsingis | from | C/PF | c 15 |
| 81. | Kelly Olynyk | The | PF/C. | PF13 |
| 82. | Robert Covington | by | PF / SF | PF14 |
| 83. | Bogdan Bogdanovic | ATL | SG/SF | SG15 |
| 84. | Devont Graham | No | PG / SG | p 25 |
| 85. | Norman Powell | by | SF/SG | SF14 |
| 86. | RJ Barrett | New York | SG/SF | SG16 |
| 87. | D'Angelo Russell | Accurate | PG / SG | p 26 |
| 88. | Chris Boucher | TOR | C/PF | C16 |
| 89. | hold friends | bag | SG/SF | SG17 |
| 90. | Colin Sexton | Total | SG/PG | SG18 |
| 91. | Therese Halliburton | bag | PG / SG | PG27 |
| 92. | Harrison Barnes | bag | PF / SF | PF15 |
| 93. | Brooke Lopez | one thousand | NS | C 17 |
| 94. | Dennis Schroeder | Package | PG | p 28 |
| 95. | John Wall | ho | PG | p 29 |
| 96. | Mason Plumley | No | NS | Q 18 |
| 97. | Mitchell Robinson | New York | NS | C 19 |
| 98. | PJ Washington | No | PF | PF17 |
| 99. | Robert Williams III | Package | NS | c 28 |
| 100. | Kohi Leonard | Latin America and the Caribbean | sixth | SF15 |
| 101. | Kevin Porter Jr. | ho | SG/PG | SG19 |
| 102. | Kyle Anderson | MEME | SF/PF | SF16 |
| 103. | Evan Fournier | New York | SG/SF | SG20 |
| 104. | Owner Beasley | Accurate | SG/SF | Study Group 21 |
| 105. | Km Birch | TOR | NS | s 29 |
| 106. | Isaiah Stewart | The | NS | c 30 |
| 107. | TJ Warren | IND | sixth | SF17 |
| 108. | Jacob Boeltel | sass | NS | C31 |
| 109. | Keldon Johnson | sass | SF/PF | SF18 |
| 110. | Reggie Jackson | Latin America and the Caribbean | PG | p 30 |
| 111. | Nickel Alexander Walker | No | SG | SG22 |
| 112. | TJ McConnell | IND | PG | p 31 |
| 113. | be honest with you | The | sixth | SF19 |
| 114. | Thomas Bryant | I was | NS | C31 |
| 115. | DeAndre Hunter | ATL | sixth | SF20 |
| 116. | Derek White | sass | PG / SG | PG32 |
| 117. | Kyle Kuzma | I was | PF / SF | PF16 |
| 118. | Jordan Clarkson | Utah | SG | SG23 |
| 119. | Kevin Huerter | ATL | SG/SF | SG24 |
| 120. | Larry Nance Jr. | by | PF | PF17 |
| 121. | Shuma Okeke | Nose, ear and throat | PF | PF18 |
| 122. | Alhorford | Package | PF/C. | PF19 |
| 123. | Markel Fultz | Nose, ear and throat | PG | PG33 |
| 124. | Stephen Adams | MEME | NS | s 32 |
| 125. | Aaron Gordon | The | PF | PF20 |
| 126. | Bojan Bogdanovic | Utah | PF / SF | PF21 |
| 127. | James Wiseman | GSW | NS | C33 |
| 128. | Tim Hardaway Jr. | from | SG/SF | SG25 |
| 129. | Joe Harris | BKN | SG/SF | SG26 |
| 130. | Duncan Robinson | Mine | SG/SF | SG27 |
| 131. | Serge Ibaka | Latin America and the Caribbean | PF/C. | PF22 |
| 132. | Derek rose | New York | PG / SG | p 34 |
| 133. | Roy Hashimura | I was | PF / SF | PF23 |
| 134. | Darius Bazley | OKC | SF/PF | SF21 |
| 135. | Joe Engels | Utah | SF / SG / PG | SF22 |
| 136. | Marvin Bagley III | bag | PF | PF24 |
| 137. | Will Barton | The | sixth | SF23 |
| 138. | Tyler Hero | Mine | SG/PG | SG28 |
| 139. | Josh Hart | No | SG/SF | SG29 |
| 140. | Doug McDermott | sass | SF/PF | SF23 |
| 141. | montrezel harrel | I was | PF/C. | PF24 |
| 142. | Scotty Barnes | TOR | PF / SF | PF25 |
| 143. | Dorian Finney Smith | from | SF/PF | SF24 |
| 145. | Luguentz there | OKC | SG/SF | SG30 |
| 146. | Jason Tate | ho | sixth | SF25 |
| 147. | Dillon Brooks | MEME | SG/SF | SG31 |
| 148. | Thaddeus Young | sass | SF/PF/C. | SF26 |
| 149. | Goran Dragic | TOR | PG | p 36 |
| 150. | Marcus Morris Sr. | Latin America and the Caribbean | SF/PF | SF27 |
| 151. | Kelly Ober Jr. | No | SF/PF | SF28 |
| 152. | Kobe White | spend | PG | PG37 |
| 153. | Cole Anthony | Nose, ear and throat | PG | PG38 |
| 154. | Monte Morris | The | PG | PG39 |
| 155. | Wendell Carter Jr. | Nose, ear and throat | NS | s 34 |
| 156. | in Pampa | Nose, ear and throat | NS | C35 |
| 157. | Gary Trent Jr. | TOR | SG/SF | SG32 |
| 158. | Daniel Theiss | spend | PF/C. | PF26 |
| 159. | Nerlence Noel | New York | NS | s 36 |
| 160. | Matisse Thibault | PH | SF/SG | SF29 |
| 161. | Royce O'Neill | Utah | SF/PF | SF30 |
| 162. | Brandon Clark | MEME | PF/C. | PF27 |
| 163. | Corey Joseph | The | PG | p 40 |
| 164. | Victor Oladipo | Mine | SG | SG33 |
| 165. | Josh Gedi | OKC | PG / SG | p. 41 |
| 166. | Ivica Zubak | Latin America and the Caribbean | NS | C37 |
| 167. | Seth Carrey | PH | SG/PG | SG34 |
| 168. | please Derek | OKC | C/PF | C38 |
| 169. | Daniel Gaford | I was | NS | C39 |
| 170. | Danilo Galinari | ATL | PF / SF | PF28 |
| 171. | Andre Drummond | PH | NS | s 40 |
| 172. | Bobby Portez | one thousand | PF | PF29 |
| 173. | Alperin Sengon | ho | NS | C 41 |
| 174. | Franz Wagner | Nose, ear and throat | sixth | SF31 |
| 175. | Eric Bledsoe | Latin America and the Caribbean | SG/PG | SG35 |
| 176. | Therese Maxi | PH | SG | SG36 |
| 177. | Kenyon Martin Jr. | ho | sixth | SF32 |
| 178. | Kilian Hayes | The | PG | p 42 |
| 179. | Blake Griffin | BKN | PF | PF30 |
| 180. | one's edges | Package | NS | Q 42 |
| 181. | Donte Divincenzo | one thousand | PG / SG | p 43 |
| 182. | Laurie Markanen | Total | PF | PF31 |
| 183. | Taleen Horton Tucker | LAL | SG/SF | SG37 |
| 184. | Alexey Bokosevsky | OKC | PF | PF32 |
| 185. | Terrence Man | Latin America and the Caribbean | sixth | SF33 |
| 186. | Patrick Williams | spend | SF/PF | SF34 |
| 187. | Jay Crowder | PHX | PF / SF | PF33 |
| 188. | Isaiah Ruby | OKC | PF | PF34 |
| 189. | Galen Bronson | from | PG | p 44 |
| 190. | Josh Richardson | Package | SG/SF | SG38 |
| 191. | Ricky Rubio | Total | PG | PG45 |
| 192. | Kendrick Nan | LAL | SG | SG39 |
| 193. | Dillon Wright | ATL | PG / SG | p 46 |
| 193. | Jaden McDaniels | Accurate | sixth | SF35 |
| 194. | Trevor Ariza | LAL | sixth | SF36 |
| 195. | Jonathan Kuminga | GSW | SF/PF | SF37 |
| 196. | Jeff Green | The | PF | PF35 |
| 197. | Cody Zeller | by | NS | C43 |
| 198. | Facundo Campazzo | The | PG | p 47 |
| 199. | Nas Red | Accurate | NS | Q 44 |
| 200. | Jeremy Lamb | IND | SG/SF | SG40 |