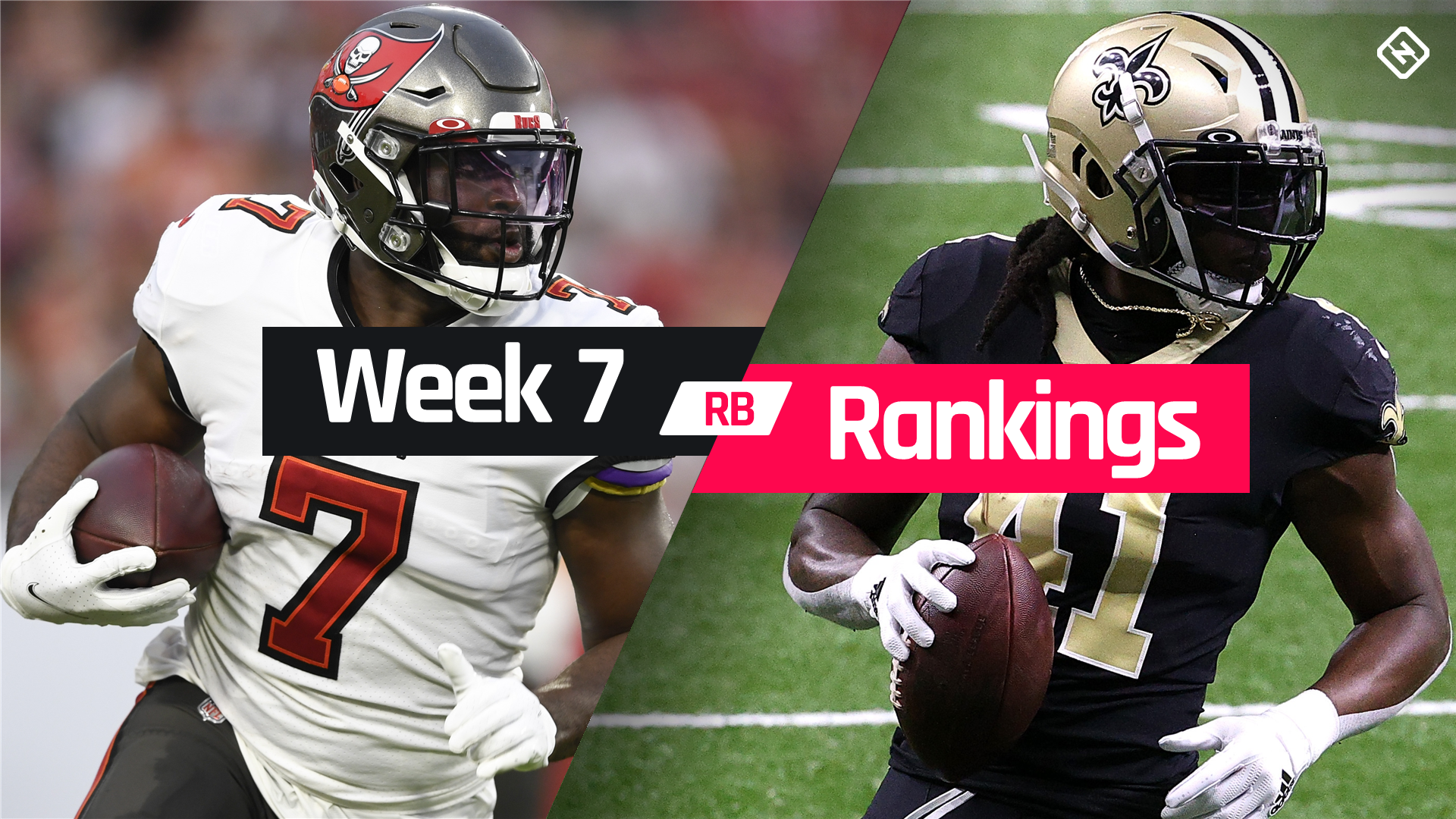 Nagy Harris, Ezekiel Elliott, Austin Eckler, Dalvin Cook, James Robinson – they all went this week. But while these five defenders (Zack Moss, Devin Singletary and Tony Pollard) are taking some well-deserved time, the fantasy football owners are left trying to figure out who to start. Week 7 fantasy RB ratings can help us, but finding the most important sleepers in fantasy isn't easy in a week like this, especially when key guys like Saquon Barkley and Nick Chubb are "in question" and there will be many star RBs. Outside.
When there are so many major novices out there, at least a few fanciers won't be happy with RB2s or flexes. This is the way things go. When you look at this week's rankings and see someone like Michael Carter (@Patriots) in the top 25, it sounds a little annoying, but who wants to put it in front of him? Sure, you can make arguments for some of the struts under it, but the bottom line is that there isn't much of a "certain start" based on usage, and it only gets worse when you start looking for matches.
Week 7 PPR Rankings:
Quarterback | running backwards | wide future | narrow end | D/ST | kicker
Perhaps the most striking thing about these ratings is Cordarrelle Patterson (@Dolphins) in the RB1 group. Patterson has earned more than seven first-game campaigns throughout the past year (14), and has earned at least five in each of his past four games. Perhaps most importantly, his surprise haul saw a huge jump before the farewell, taking part in 59 percent of plays. Relegations are still a potential concern, so perhaps we'd be generous with our near-RB1 rating for him in the record leagues, but Patterson is explosive and has a very favorable game against Miami. That's why his fellow running mate, Mike Davis, deserves to start this week.
Standard Rankings for Week Seven:
Quarterback | wide future | narrow end | D/ST | kicker
Damian Harris (vs Gates), Mike Sanders (@riders), Miles Gaskin (vs ATL), James Conner and Chase Edmonds (vs Texas) are also getting major boosts from their competitions. These are the players that have looked unplayable at times this year, but then again, in a week with fewer options, they stand out as relatively "safe" plays, and as crazy as this sounds. Gaskin and Edmonds are obviously more valuable in PPR tournaments, but you should still take photos as standard. Yes, even Gaskin. We all saw what happened when he disappointed and faded globally the following week (scoring two goals). Don't let that happen again.
The biggest compatibility concerns are Devontay Booker (v. Panthers), Elijah Mitchell (v. Colts), Damian Williams/Khalil Herbert (@Box), Melvin Gordon, Javonty Williams (@Browns), and Mark Ingram (@Cardinals). It will be difficult to sit in the ranks of key defenders such as Booker and Mitchell, as their workloads will be high, but committee supporters such as Gordon and Williams are more dangerous. Chances are, many will have to use these guys as RB2s or duos, but there's always hope for a short TD. If Barkley returns, he will have a lower cap than usual, but it is still essential. Mitchell might get a rating bump depending on whether it's JaMycal Hasty (ankle) and/or Jeff Wilson Jr. (Knee) It's time to go back to San Francisco.
If you have to dig deep this week, guys like Malcolm Brown (against the Falcons), Samaji Perrin (@Ravens), Ramondry Stevenson (against Gates), and Sonny Michelle (against DET) at least have favorable alignments on paper. It's always hard to guess how many touches they'll get, but if they get closer to 10, they'll have some value in a week like this.
After all, these are the kinds of weeks you should consider yourself lucky if you have two legitimate starters, let alone three. If you are walking in a long cotton with a triple (or quad) of high quality backs, it may not be a bad idea to see what is available in the trade. Some owners may be desperate, so you never know how much extra you can net.
Noticeable: We'll be updating these RB Rankings throughout the week, so check back for analysis and the latest player movement.
Fantasy RB Week 7 Ranking: Who Starts Running Back
Ranking based on Standard, Non-PPR Scoring
| | |
| --- | --- |
| Rank | player |
| 1 | Derek Henry, Teen vs KC |
| 2 | Alvin Camara, NO @SEA |
| 3 | Aaron Jones, GB vs. WAS |
| 4 | Jonathan Taylor, IND @SF |
| 5 | Nick Chubb, Holly vs. Dean |
| 6 | Daryl Henderson, LAR vs. DET |
| 7 | Antonio Gibson, WAS @GB |
| 8 | Chuba Hubbard, CAR @NYG |
| 9 | Joe Mixon, CIN @BAL |
| 10 | Leonard Fortnite, TB vs. CHI |
| 11 | Andre Swift, DET @ LAR |
| 12 | Damian Harris, Northeast vs. New York |
| 13 | Cordaryl Patterson ATL @MIA |
| 14 | Miles Sanders, PHI @ LV |
| 15th | Josh Jacobs, LV vs. PHI |
| 16 | Daryl Williams, KC @ TEN |
| 17 | Mike Davis, ATL @MIA |
| 18 | Damien Williams, CHI @TB |
| 19 | James Conner, ARI vs. HOU |
| 20 | Defontay Poker, NYG vs. CAR |
| 21 | Elijah Mitchell, SF vs. IND |
| 22 | Alex Collins, SEA vs. NO |
| 23 | Miles Gaskin, MIA vs. ATL |
| 24 | Chase Edmonds, ARI vs. HOU |
| 25 | Michael Carter, NYJ @NE |
| 26 | Melvin Gordon, DEN @ CLE |
| 27 | Jamal Williams, DET @LAR |
| 28 | Mark Ingram, HOU@IND |
| 29 | Javonte Williams, DEN @ CLE |
| 30 | Latavius ​​Murray, BAL vs. CI |
| 31 | Rhamondre Stevenson, NE vs. New York |
| 32 | Ernest Johnson, Klee vs. den |
| 33 | AJ Dillon, GB vs. WAS |
| 34 | JD McKissic, WAS @GB |
| 35 | Samaji Beren, CIN @BAL |
| 36 | Sony Michel, LAR vs. The |
| 37 | JaMycal Hasty, SF vs. IND |
| 38 | Khalil Herbert, CHI @ TB |
| 39 | Malcolm Brown, MIA vs. ATL |
| 40 | Le'Veon Bell, BAL vs CIN |
| 41 | Rashad Bini, SEA Vs. No |
| 42 | Defonta Freeman, BAL vs. CI |
| 43 | Kenneth Jenwell PHI @LV |
| 44 | Niheim Heinz, IND @ SF |
| 45 | Tevin Coleman, NYJ @NE |
| 46 | Salvon Ahmed, MIA vs ATL |
| 47 | David Johnson, HOU @ ARI |
| 48 | Gerek McKinnon, KC @TEN |
| 49 | Ronald Jones II, TB vs CHI |
| 50 | Ty Johnson, NYJ @NE |
| 51 | Kenyan Drake, LV vs. PHI |
| 52 | Young Bernard, T. B. vs. Who is the |
| 53 | Jeremy McNichols, Teen vs KC |
| 54 | Philip Lindsey, HOU @ ARI |
| 55 | Brandon Bolden, NE vs. New York |
| 56 | Trey Sermon, SF vs IND |