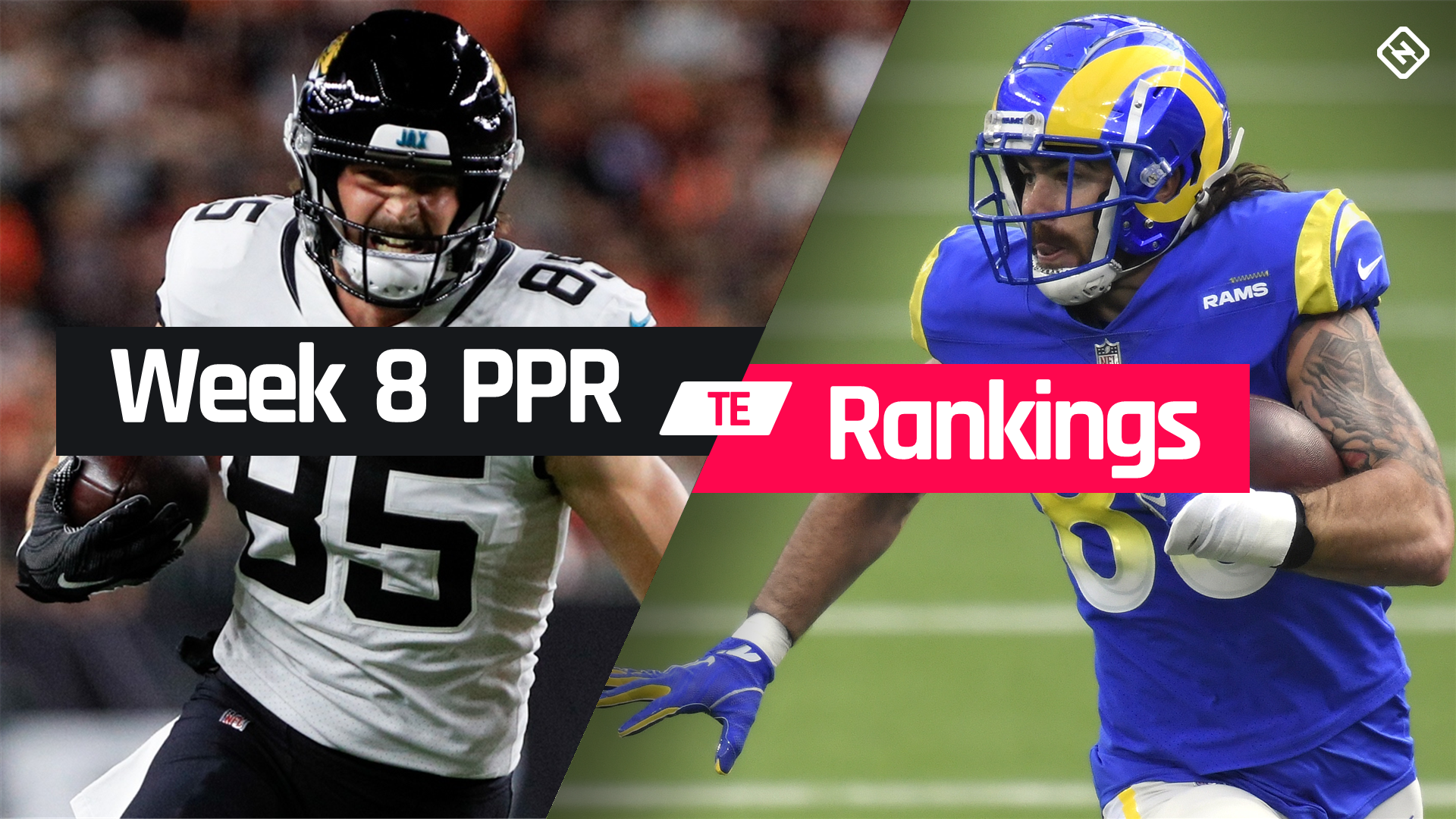 It's not like we should be surprised, but we did see second-tier tight ends break up and produce bottom feeders in Week 7. This is the game on its tight end, and we'll see it again every week. However, we have a slightly better chance of seeing these things come up in PPR tournaments, where goals and catches can really raise the bar for players. In PPR, you can live with a 4-40-0 streak from a marginal start. If you can at least get that out of your downstream wire harness, that's a win. Use our fictional TE PPR Week 8 rankings to help you find those types of players in a tough week sneaking up on some of the best players in the job.
After a grueling week of farewell to all positions, we're looking at just two idle teams in Week 8. However, there is no harder position than TE, where Darren Waller and Mark Andrews will stop. Dawson Knox (Hand) will also be out.
PPR Rankings in Week Eight:
Quarterback | running backwards | wide future | D/ST | kicker
Among the regular TE newbies, Mike Gesicki (@Bills) is the only guy with enough concerns to even consider hiring him. Buffalo seemed the best defense in football. However, Gesicki has been a lock-down of at least six goals since week one, so we'd still say play it unless you own one of the players ranked ahead of him, which seems unlikely.
Standard Rankings for Week 8:
Quarterback | running backwards | wide future | narrow end | D/ST | kicker
We can't call Hunter Henry (@Chargers) a steamer anymore due to his high ownership percentage, but if you're thinking about deciding to start it – do. Las Angeles was second in defense against TEs in all formats. To be fair, they played Andrews, Travis Kelce, and Waller, among others, but they also let Logan Thomas, Jodi Fortson, and David Njoku enjoy nice outings. Juno Smith, if active, is also a potential sleeper in this match.
Dan Arnold (@Seahawks), Evan Engram (@Chiefs), CJ Uzomah (@Jets), Gerald Everett (vs Jaguars), and Tyler Conklin (vs Cowboys) come to mind as some of the sexiest players this week. Every defense in that group was in the bottom half of the league against the Fantasia TEs, so they all have a real upside. Arnold, Uzomah, Everett, Engram, and Conklin are in the starting bubble or sitting for some reason (relatively low floors), but they've all been into multiplayer games with five-plus goals and have encounters they can really tap into.
Dalton Schultz (@Vikings) and Ricky Sells-Jones (@Broncos) have some of the worst matches possible, but they show enough consistency in their target stakes for fairly safe PPR floors. But their ceilings are low this week. Jared Cook (opposite the Patriots) has a very low floor (and roof) to consider this week.
It wouldn't be easy to fill in the gaps in your lineup if you were without Waller, Andrews or Knox, but the owners of Knox and Waller had to deal with this last week, so they can survive. After all, all of us other than Travis Kelsey and probably the owners of TJ Hockenson have had to deal with this almost every week, so no sympathy here. Play matches, find a streaming device, and do your best.
Noticeable: We'll be updating this TE PPR rankings throughout the week, so check back for the latest player moves and analysis.
Fantasy TE PPR Ranking – Week 8: Who will start at the tight end
Ranking based on full point PPR Scoring
| | |
| --- | --- |
| Rank | player |
| 1 | Travis Kelsey, KC vs. NYG |
| 2 | Kyle Bates, ATL vs. CAR |
| 3 | Noah you, debt for what |
| 4 | TJ Hawkinson, DET vs. PHI |
| 5 | Tyler Higby, LAR @HOU |
| 6 | Hunter Henry, NE @LAC |
| 7 | Dallas Guedert, PHI @ DET |
| 8 | Mike Jesecki MIA @BUF |
| 9 | Dalton Schultz, DAL @MIN |
| 10 | Rob Gronkowski, TB vs. No |
| 11 | Zach Ertz, ARI vs. GB |
| 12 | Dan Arnold, JAX @SEA |
| 13 | Ricky Sells-Jones, WAS @DEN |
| 14 | C.J. Uzomah, CIN @NYJ |
| 15th | Tyler Conklin, MIN vs. DAL |
| 16 | Evan Ingram, NYG @ KC |
| 17 | Juno Smith, NE @LAC |
| 18 | Gerald Everett, SEA vs. JAX |
| 19 | Pat Freermouth, PIT @ CLE |
| 20 | Jared Cook, LAC vs Northeast |
| 21 | Mo Alie-Cox, IND vs. TEN |
| 22 | Robert Tonian Jr., GB @ ARI |
| 23 | Ross Doyle, SF @ CHI |
| 24 | Cole dead, chi vs sixth |
| 25 | David Ngoku, Klee vs. Pete |
| 26 | Joan Johnson, No Against Tuberculosis |
| 27 | Austin Hopper, Klee vs. Pete |
| 28 | Hayden Hurst ATL vs. CAR |
| 29 | Eric Ebron, PIT @ CLE |
| 30 | O.J. Howard, T. B. vs. NO |
| 31 | Tommy Sweeney, BUF vs. MIA |
| 32 | Jack Doyle, India vs. Teen |
| 33 | Ryan Griffin, NY vs. CIN |
| 34 | Blake Garwin, DAL @MIN |
| 35 | Adam Trautman, No Against Tuberculosis |
| 36 | Pharaoh Brown, HOU vs. LAR |
| 37 | Anthony Verker, TEN @IND |
| 38 | Will Dissly, SEA vs. JAX |