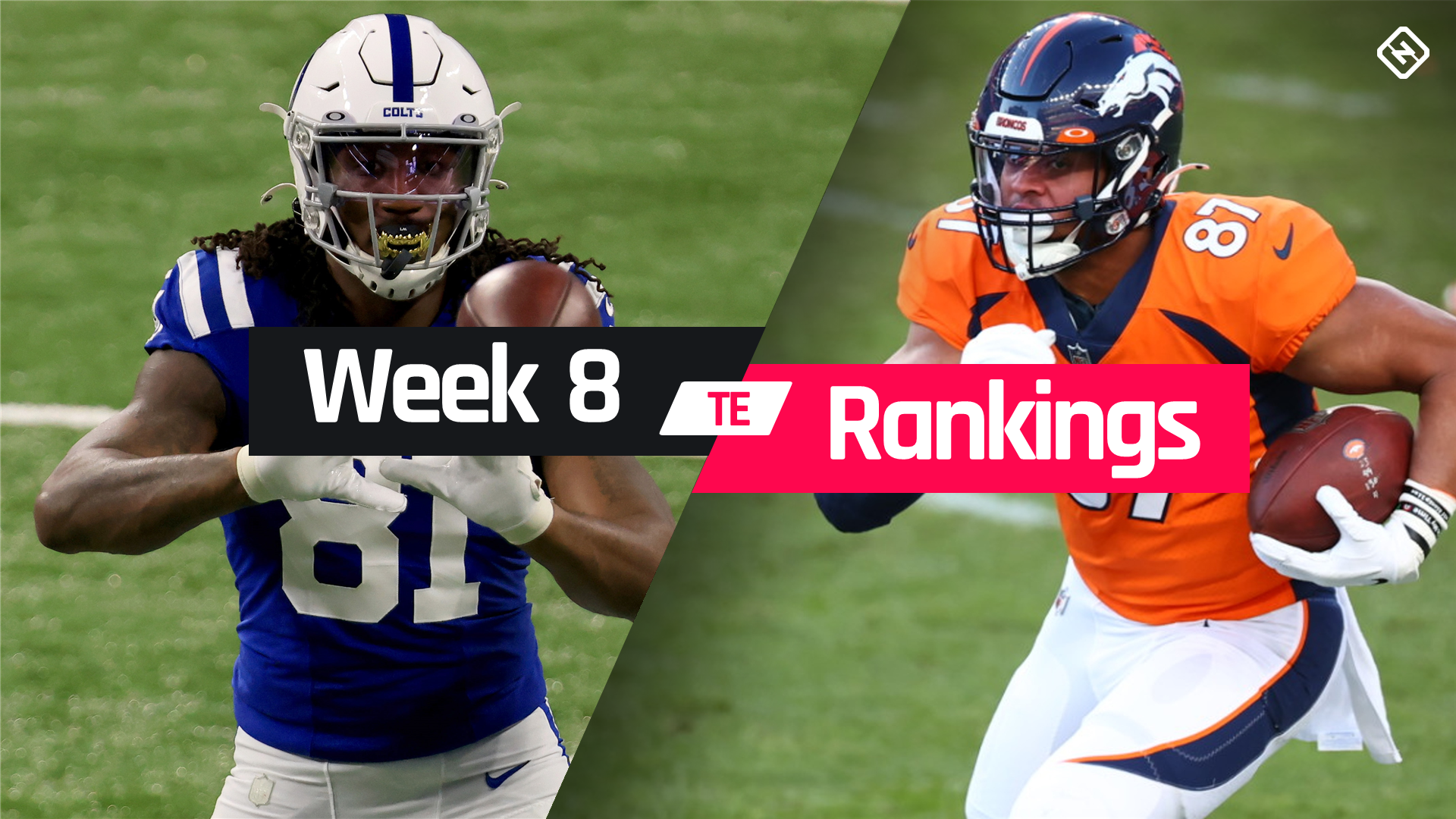 Random breakouts and frustrating breakdowns are a constant in the tight end position, but at least we always have favorable fits and potential sleeper elements in wiring that can help us. Our Week 8 fantasy TE rankings feature plenty of potential streamers, which will come in handy with no less than three major TEs.
There are only two teams in goodbye, so that's cool, but considering they're the Ravens and the Conquerors, that's not great. Mark Andrews and Darren Waller will be joined on the sidelines by breakout Dawson Knox (hand), who is expected to miss at least the next two weeks. At least Dalton Schultz (@Vikings) will be back.
Standard Rankings for Week 8:
Quarterback | running backwards | wide future | D/ST | kicker
With the exception of Mike Gesicki (@Bills), no other tight end in the top ten has any real matches concerns. In Miami's first meeting with Buffalo, Toa Tagovailoa was knocked out in the first quarter, and Jesecki had three assists on six goals from 41 yards. This seems like a worst case scenario here, but Gesicki has recently switched, and on TE the line 3-41 isn't who – which Bad from the word. It should still start on many players, but the concerns certainly exist.
PPR Rankings in Week Eight:
Quarterback | running backwards | wide future | narrow end | D/ST | kicker
Tyler Higbee (@Texans) finds his way just outside the top five, with Houston allowing most fantasy points to reach tight ends heading into Week 7. And to make the Texas achievement even more impressive, they were the worst defense against the TEs without playing against Travis Kelsey, Darren Waller , Mark Andrews, and T.J. Hawkinson are other key players in this position. Instead, they let Tommy Trimble, Knox, Moe Allie Cox, Hunter Henry, and Zach Erts score against them. Start Higbee without hesitation.
Tyler Conklin (versus the Cowboys) Dan Arnold (@Sehawks) and CJ Uzomah (@Jets), attractive streaming options. Mo Alie-Cox (versus the Titans) and Juwan Johnson (versus the Buccaneers) are interesting options in the Standard League, as these two are likely TD-or-bust options. Gerald Everett (opposite the Jaguars), and if he's active, Jonnu Smith (@Chargers) also play as worthwhile streaming options with slightly higher decks than Johnson and Alie-Cox.
Jared Cook (against the Patriots), Schultz (@Vikings), Ricky Sells-Jones (@Broncos), and Robert Tonian (@Cardinals) are on the other end of the spectrum with tough matches. That doesn't mean you should sit Schultz for a guy like Alie-Cox, but it's worth noting that he can struggle here and fall short of making the top ten. Schultz is almost a must in PPR leagues, but you could reasonably choose another option in standard leagues.
It might also be strange to bench Cook and Seals-Jones, but they don't have a track record of being match-proof. However, Seals-Jones is similar to Schultz – the PPR floor appears to be safe. Tonian has gone bankrupt this season, and we don't expect a breakout to take on the league's best defense against fantasy TEs.
Logan Thomas (hamstring) is eligible to return this week, but expectations are that he will be out again. We still have another week left for George Keitel (the calf) to be able to come back too.
Noticeable: We'll be updating these TE rankings throughout the week, so check back for the latest player moves and analysis.
Fantasy TE Ratings – Week 8: Who's Starting With a Tight End
Ranking based on Standard, Non-PPR Scoring
| | |
| --- | --- |
| Rank | player |
| 1 | Travis Kelsey, KC vs. NYG |
| 2 | Noah you, debt for what |
| 3 | Kyle Bates, ATL vs. CAR |
| 4 | Tyler Higby, LAR @HOU |
| 5 | TJ Hawkinson, DET vs. PHI |
| 6 | Hunter Henry, NE @LAC |
| 7 | Dallas Guedert, PHI @ DET |
| 8 | Rob Gronkowski, TB vs. No |
| 9 | Mike Jesecki MIA @BUF |
| 10 | Zach Ertz, ARI vs. GB |
| 11 | Dalton Schultz, DAL @MIN |
| 12 | Dan Arnold, JAX @SEA |
| 13 | C.J. Uzomah, CIN @NYJ |
| 14 | Ricky Sells-Jones, WAS @DEN |
| 15th | Tyler Conklin, MIN vs. DAL |
| 16 | Juno Smith, NE @LAC |
| 17 | Gerald Everett, SEA vs. JAX |
| 18 | Evan Ingram, NYG @ KC |
| 19 | Mo Alie-Cox, IND vs. TEN |
| 20 | Robert Tonian Jr., GB @ ARI |
| 21 | Pat Freermouth, PIT @ CLE |
| 22 | Jared Cook, LAC vs Northeast |
| 23 | David Ngoku, Klee vs. Pete |
| 24 | Ross Doyle, SF @ CHI |
| 25 | Cole dead, chi vs sixth |
| 26 | Joan Johnson, No Against Tuberculosis |
| 27 | Austin Hopper, Klee vs. Pete |
| 28 | Hayden Hurst ATL vs. CAR |
| 29 | Eric Ebron, PIT @ CLE |
| 30 | O.J. Howard, T. B. vs. NO |
| 31 | Tommy Sweeney, BUF vs. MIA |
| 32 | Jack Doyle, India vs. Teen |
| 33 | Ryan Griffin, NY vs. CIN |
| 34 | Blake Garwin, DAL @MIN |
| 35 | Adam Trautman, No Against Tuberculosis |
| 36 | Pharaoh Brown, HOU vs. LAR |
| 37 | Anthony Verker, TEN @IND |
| 38 | Will Dissly, SEA vs. JAX |