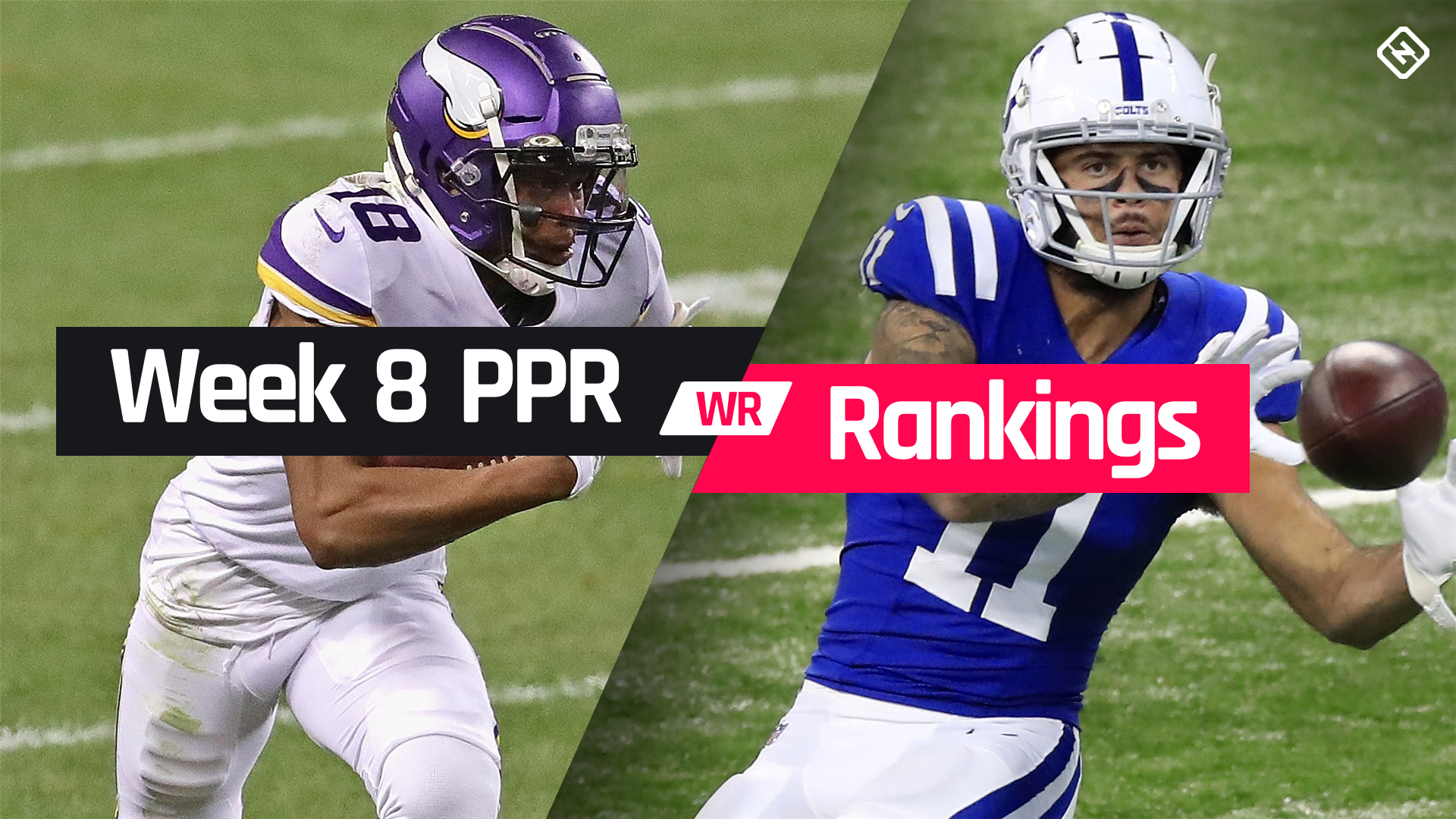 Several PPR stadiums were out of action last week, leading fantasy football owners to struggle to pick up the pieces. We're sure many of you had to start risky men, but we shouldn't count on such a number this week. However, we're still looking for the under-the-radar sleepers in the fictional WR PPR Week 8 ratings. This is a never ending cycle and it's smooth from week to week, so use our rankings to help you with your start and sit decisions.
We lost Marquis Brown, Rashid Bateman, Henry Rogers and Hunter Renfrew to Bay this week, but we traded them in to get CeeDee Lamb, Justin Jefferson, Mike Williams and Diontae Johnson, among many others. Seems like a fair deal, right?
PPR Rankings in Week Eight:
Quarterback | running backwards | narrow end | D/ST | kicker
You'll always start Calvin Ridley (vs the Panthers) on the upside and both Keenan Allen and Mike Williams (vs the Patriots) based on what we've seen this year, but they could be on the loose this week facing two top-tier defenses against the fantasy WRs. However, Brandin Cooks (versus the Rams) is worry enough to consider. Of course, don't just make him sit in front of anyone, but maybe you can come up with better options.
Standard Rankings for Week 8:
Quarterback | running backwards | wide future | narrow end | D/ST | kicker
Notable players in the starting or sitting bubble include Cole Beasley (versus the Dolphins), Marquis Calaway and Triquand Smith (against the Pirates), Marvin Jones and Lavisca Chenault (@Seahawks), and Ty Hilton (versus the Titans) all-match favorable. Beasley has been unproductive in penalty shootouts before, but the upside is high enough to impress him on the flex point. Shenault has tied for seven or more goals in four games (10 goals in two games), but hasn't had the explosive week we're hoping for so far. Ahead of a struggling Seattle High School, this just might be the week when it all comes together.
On top of these guys, Michael Gallup (@Vikings) and Jerry Judy (opposite Washington) are expected to return from IR this week. They both have favorable matches too, so while we don't know exactly how much they'll play or what their roles will be, we still love their chances of at least a flexible production. We saw Jarvis Landry (versus the Steelers) looking straight away from IR last week, and with a positive match on paper this week, he still has some flexible PPR value (although we're not quite as high as teammate Odell). Beckham Jr. )
Cory Davis (versus the Bengals), Jacoby Myers (@Chargers), Jaylene Waddell (@Bells) and Russell Gage (versus the Panthers) are all facing tough roads this week. Cincinnati is much improved in defense and is among the top 12 against fantasy WRs. Los Angeles and Buffalo were both the #1 and #2 teams against the fantasy WRs entering Week 7, so the Patriots and Dolphin pass catchers' concerns speak for themselves. The Panthers' defense is reeling, so perhaps Gage is fine, but there are still questions about the consistency of his goals.
Keep an eye out for the state of Kadarius Toney (ankle), Sterling Shepard (hamstring), and Kenny Golladay (knee), as they could be in prime position to score a fantastic success against one of the league's worst candidates in Kansas City. Of course, given the injuries, it's hard to plan any of them, especially since they're playing Monday nights. If they play, they will still have injury fears, but the exciting match may outweigh the risks. If one or two (or all) go out, Darius Slayton will be in play.
We survived "byemaggedon", which pushed a slew of risky players into starting lineups, and that's pretty cool. However, we still had the challenge of finding value after studding with goodwill due to injuries. It's not easy, but this week offers a lot of options.
Noticeable: We'll update these WR PPR rankings as needed throughout the week, so check back for the latest changes and analysis.
Fantasy WR PPR Rankings – Week 8: Who starts at the wide receiver
Ranking based on full point PPR Scoring
| | |
| --- | --- |
| Rank | player |
| 1 | Cooper Cobb, LAR @HOU |
| 2 | Stefon Diggs, BUF vs. MIA |
| 3 | Davant Adams, GB @ ARI |
| 4 | Trek Hill, Kentucky vs. NYG |
| 5 | Mike Evans, TB @NO |
| 6 | Justin Jefferson, MIN vs DAL |
| 7 | DeAndre Hopkins, ARI vs. GB |
| 8 | DJ Moore, CAR @ATL |
| 9 | Adam Tillen, Maine vs. the valley |
| 10 | AJ Brown, TEN @IND |
| 11 | Ja'Marr Chase, CIN @NYJ |
| 12 | Terry McLaurin, WAS @DEN |
| 13 | Calvin Ridley, ATL vs. CAR |
| 14 | Antonio Brown, TB @NO |
| 15th | Chris Goodwin, TB @NO |
| 16 | DK Metcalf, SEA vs. JAX |
| 17 | Debo Samuel, SF @ CHI |
| 18 | Cortland Sutton, DEN vs. WAS |
| 19 | CeeDee Lamb, DAL @MIN |
| 20 | Amari Cooper, DAL @MIN |
| 21 | Robert Woods, LAR @HOU |
| 22 | Deontay Johnson, PIT @ CLE |
| 23 | Emmanuel Sanders, BUF vs. MIA |
| 24 | Sterling Shepherd, NYG @ KC |
| 25 | Julio Jones, TEN @IND |
| 26 | Mike Williams, LAC vs. Northeast |
| 27 | DeVonta Smith, PHI @ DET |
| 28 | Kenan Allen, LAC vs. Northeast |
| 29 | Jerry Judy, DEN vs. Used to be |
| 30 | Brandin Cooks, HOU vs. LAR |
| 31 | Michael Bateman Jr., IND vs. TEN |
| 32 | Tyler Lockett, SEA vs. JAX |
| 33 | T Higgins, CIN @ NYJ |
| 34 | Corey Davis, NYJ vs. CI |
| 35 | Jacoby Myers, NE @ LAC |
| 36 | TY Hilton, IND vs. TEN |
| 37 | Jaylen Waddle, MIA @BUF |
| 38 | Marquis Calaway, NO vs TB |
| 39 | Marvin Jones, JAX @SEA |
| 40 | Russell Gage, ATL vs. CAR |
| 41 | Laviska Shenault Jr., JAX @SEA |
| 42 | Cole Beasley, BUF vs. MIA |
| 43 | Allen Robinson, Che vs SF |
| 44 | Jarvis Landry, Klee vs Pete |
| 45 | Michael Gallup, DAL @MIN |
| 46 | Calif Raymond, DET vs. PHI |
| 47 | Darnell Mooney, Che vs. SF |
| 48 | Robbie Anderson, CAR @ATL |
| 49 | Christian Kirk ARI vs GB |
| 50 | AJ Green and ARI vs. GB |
| 51 | Tim Patrick, DEN vs. WAS |
| 52 | Odell Beckham Jr. , CLE vs. PIT |
| 53 | Allen Lazard, GB @ ARI |
| 54 | Jamison Crowder, New York vs. CIN |
| 55 | Mikol Hardman, Kentucky vs. New York |
| 56 | Chase Claypool, PIT @ CLE |
| 57 | Rondale Moore, ARI vs. GB |
| 58 | DeVante Parker, MIA @BUF |
| 59 | Tyler Boyd, CIN @NYJ |
| 60 | Amon Ra Saint Brown, DET vs PHI |
| 61 | Brandon Aiyuk, SF @ CHI |
| 62 | Tre'Quan Smith, no exchange. TB |
| 63 | Jamal Agnew, JAX @SEA |
| 64 | Byron Pringle, KC vs. New York |
| 65 | Donovan People's Jones, Klee vs. Pete |
| 66 | Van Jefferson, LAR @HOU |
| 67 | Galen Rigor, PHI @ DET |
| 68 | Randall Cobb, GB @ ARI |
| 69 | Zach Pascal, IND vs. TEN |
| 70 | Darius Slayton, NYG @ KC |
| 71 | Nelson Agulor, NE @ LAC |
| 72 | KJ Osborne, MIN vs DAL |
| 73 | Kendrick Bourne, NE @ LAC |
| 74 | DeSean Jackson, LAR @HOU |
| 75 | Keyes Watkins, PHI @ DET |
| 76 | Tavon Austin, JAX @SEA |
| 77 | Chris Conley, HOU vs. LAR |
| 78 | Olamide Zacceaus, ATL vs. CAR |
| 79 | Preston Williams, MIA @BUF |
| 80 | Adam Humphreys WHAT @DEN |
| 81 | Chris Moore, HOU vs. LAR |
| 82 | Freddy Swain, SEA vs. JAX |
| 83 | Dante Pettis, NYG KC |
| 84 | Richard Higgins, Klee vs. Pete |
| 85 | Gabriel Davis vs BUF Lee |
| 86 | Elijah Moore, NY vs. CIN |
| 87 | Marquis Goodwin, Che vs SF |
| 88 | Josh Reynolds, TEN @IND |
| 89 | Demarcus Robinson, K.C. vs. NYG |
| 90 | DeAndre Carter, WAS @DEN |
| 91 | Terrace Marshall Jr., CAR @ATL |
| 92 | Jalen Guyton, LAC vs. NE |
| 93 | Josh Gordon, Kentucky vs. NYG |