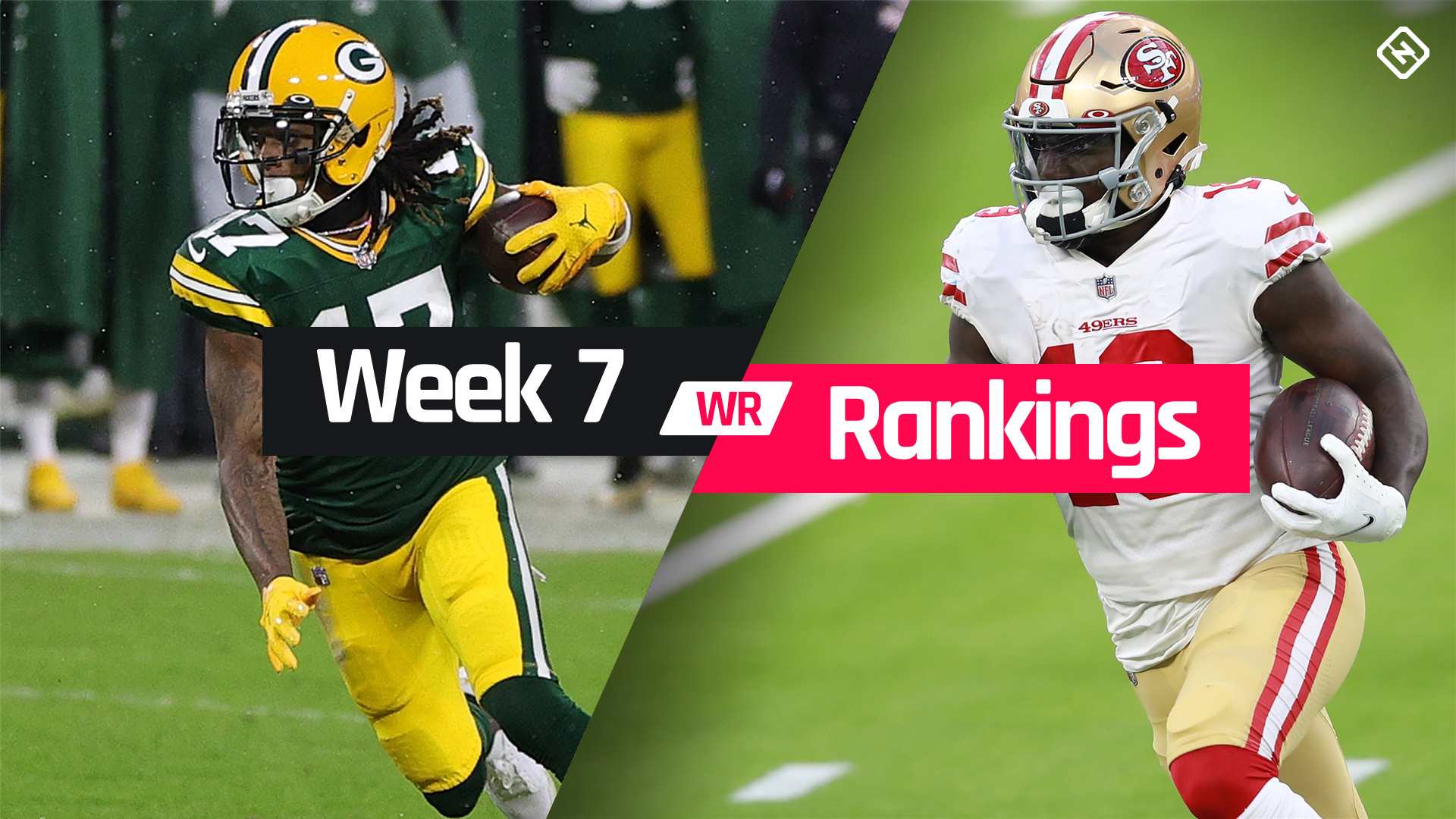 We continued to see performances of boom or collapse all over the wide reception position, even studs like Tyreek Hill and Terry McLaurin had some surprisingly failed weeks. You obviously start out with these guys no matter what, but they're the perfect representation of how the broad reception group has gone up and down this year. However, someone has to start for you during this six-team encounter, and the fantasy Week 7 WR Rankings can help you decide who's worth playing.
The wide receiver is the deepest position in fiction, but losing Stefon Diggs, Emmanuel Sanders, CeeDee Lamb, Amari Cooper, Justin Jefferson, Adam Thielen, Keenan Allen, Mike Williams, Diontae Johnson and Chase Claypool, And others to say goodbye for weeks will certainly make classification a challenge to create. With so many players coming out, don't be surprised when you see a man like Michael Bateman Jr inside the top 25.
Week 7 PPR Rankings:
Quarterback | running backwards | wide future | narrow end | D/ST | kicker
In general, the buttons available this week do not have incredibly difficult confrontations. The Bengals' WR trio led by Ja'Marr Chase (@Ravens) may have a tough road ahead, but Chase and Tee Higgins still have to start. DK Metcalf (against Saints) and Tyler Lockett (against Saints) have a stingy defense and you have Gino Smith in the QB, but you can't really sit down for either of them.
Standard Rankings for Week Seven:
Quarterback | running backwards | narrow end | D/ST | kicker
Among the players at the start are sit 'em bubble, Rondale Moore and Christian Kirk (versus Texas), Marquez Callaway (@Sehawks), Jaylen Waddle and DeVante Parker (versus the Falcons), and Allen Robinson (@Buccaneers) have matches amazing. And yes, we've come to a weird time in fiction when Robinson isn't a must, but we've seen time and time again that Bock's defense has a hard time stopping anyone in the air. You could also try Darnell Mooney (@Buccaneers), but he's better in the PPR leagues.
Callaway could join Tre'Quan Smith (hamstring) and Michael Thomas (ankle) for the first time this season, but we're not ready to say how that will affect him in the imagination just yet. New Orleans may decide to open the pass game, and the match with Seattle is a great time to do so. We still love Callaway. With the return of TY Hilton (@49ers), we'll be ready to cash in on him too. We also love targeting WRs playing against Tennessee, and Mecole Hardman has hit enough goals over the past two weeks to make us believe he can do enough damage to be flexible.
Both Odell Beckham Jr. And Donovan Peoples-Jones (against the Broncos), Corey Davis, Jamison Crowder (@patriots) and DeVonta Smith (@Raiders) are all top 10 defenses against wide ranges, but we understand if you have to start with them with no depth because of all the goodbyes. Just know that there is the potential for bankruptcy with all of them, although all of those defenses seemed weak against interception last week.
We mentioned how Smith and Thomas qualify for a comeback next week, and could join Jerry Judy (ankle), Jarvis Landry (knee), and a couple other WRs who have been in IR. You may want to give these guys a week off before putting them in your lineup, but don't let them sit on the waiver wire for too long.
Once again, WR's position is deep, and this could be one of the rare weeks where you have to play with players in challenging matches or put your trust in risky broadcasts. In standard tournaments, count on players who are more likely to score touchdowns if you're in a desperate situation. Red zone goals and matches are key in the sit/start decisions in this scenario.
Fantasy WR Ranking – Week 7: Who will start at the wide receiver
Ranking based on Standard, Non-PPR Scoring
| | |
| --- | --- |
| Rank | player |
| 1 | Terek Hill, KC @TEN |
| 2 | Davante Adams, GB vs. WAS |
| 3 | Cooper Cobb, LAR vs. The |
| 4 | DeAndre Hopkins, ARI vs. HOU |
| 5 | Calvin Ridley, ATL @MIA |
| 6 | AJ Brown, Teen vs KC |
| 7 | Debo Samuel, SF vs. IND |
| 8 | DJ Moore, CAR @NYG |
| 9 | Mike Evans, TB vs. Che |
| 10 | Terry McLaurin, WAS @GB |
| 11 | DK Metcalf, SEA vs. NO |
| 12 | Julio Jones, Ten vs KC |
| 13 | Branden Chefs, HOU @ ARI |
| 14 | Ja'Marr Chase, CIN @BAL |
| 15th | Antonio Brown, TB vs. CHI |
| 16 | Robert Woods, LAR vs. The |
| 17 | Chris Goodwin, TB vs. Che |
| 18 | Allen Robinson, CHI @TB |
| 19 | Marquis Brown, Pal vs. Sen |
| 20 | Cortland Sutton, DEN @ CLE |
| 21 | T Higgins, CIN @ BAL |
| 22 | Sterling Shepherd, NYG vs. CAR |
| 23 | Defonta Smith, PHI LV |
| 24 | Corey Davis, NYJ @NE |
| 25 | Tyler Lockett SEA vs. NO |
| 26 | Michael Bateman Jr., IND @SF |
| 27 | Odell Beckham Jr. , CLE vs. DENE |
| 28 | Tim Patrick, DEN @ CLE |
| 29 | James Myers, NE vs. New York |
| 30 | Marquis Callaway, NO @SEA |
| 31 | Cadarius Tony, NYG vs. CAR |
| 32 | DeVante Parker, MIA vs. ATL |
| 33 | Hunter Renfrew, LV vs. PHI |
| 34 | Christian Kirk, ARI vs. HOU |
| 35 | Jaylen Waddell, MIA vs. ATL |
| 36 | Rondell Moore, ARI vs. love |
| 37 | Jamison Crowder, NYJ @NE |
| 38 | TY Hilton, IND @ SF |
| 39 | Mikol Hardman, KC @ TEN |
| 40 | AJ Green and ARI vs. HOU |
| 41 | Donovan People's Jones, Klee vs. Dean |
| 42 | Tyler Boyd, CIN @BAL |
| 43 | Brandon Aiyuk, SF vs IND |
| 44 | Darnell Mooney, CHI @ TB |
| 45 | Henry Rouges III, LV vs. PHI |
| 46 | Sammy Watkins, Pal vs. Sen |
| 47 | Diont Harris, NO @SEA |
| 48 | Allen Lazard, GB vs. WAS |
| 49 | Randall Cobb, GB vs. WAS |
| 50 | Robbie Anderson, CAR @NYG |
| 51 | From Jefferson, LAR vs. The |
| 52 | Zach Pascal, IND @SF |
| 53 | Amon-Ra St. Brown, DET @ LAR |
| 54 | Nelson Agulor, NE vs. New York |
| 55 | DeSean Jackson, L to R vs. DET |
| 56 | Khalif Raymond, DET @ LAR |
| 57 | Preston Williams, MIA vs. ATL |
| 58 | Tre'Quan Smith, NO @SEA |
| 59 | Paris Campbell, IND @SF |
| 60 | Galen Rigor, PHI @ LV |
| 61 | Kendrick Bourne, NE vs. New York |
| 62 | Olamide Zaccheaus, ATL @MIA |
| 63 | Spending Batman, Bal Vs. Rank |
| 64 | Chris Conley, HOU @ ARI |
| 65 | Adam Humphreys, WAS@GB |
| 66 | Chris Moore NEW @ARI |
| 67 | Richard Higgins, Klee vs. Dean |
| 68 | Freddy Swain, SEA vs. NO |
| 69 | Byron Pringle, KC@Tin |
| 70 | Chester Rogers, Ten vs KC |
| 71 | Josh Reynolds, Teen vs KC |
| 72 | Darius Slayton, NYG vs. CAR |
| 73 | Keyes Watkins, PHI @ LV |
| 74 | DeAndre Carter, WAS @GB |
| 75 | Terrace Marshall Jr., CAR @ NYG |
| 76 | Brian Edwards, LV vs. PHI |
| 77 | Marquis Goodwin, CHI @TB |
| 78 | DeMarcus Robinson, KC@Tin |
| 79 | Josh Gordon, KC @ TEN |
| 80 | Elijah Moore, NYJ @NE |
| 81 | Dante Pettis, NYG vs. CAR |