Louis Graban's fifth goal in seven matches in the tournament helped Nottingham Forest and Steve Cooper to their first home win of the season as Blackpool lost 2-1.
Brennan Johnson scored his second goal in three games to give Forest the lead on city ground, but Jerry Yates equalized just after the first half, after a defensive blunder.
But Neil Critchley's procrastination was short-lived as the Forest Grabban captain set out to secure victory, with the Reds now on 13 points from five games since Chris Hughton's departure last month.
While both sides secured promising positions in the penalty area, a powerful shot from Jack Colback came close to breaking the deadlock in the first 15 minutes.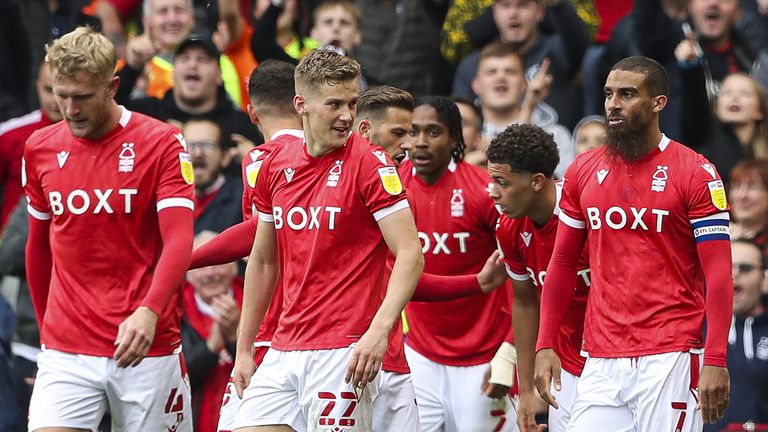 The match came to life in the 22nd minute when a superb ball from Joe Worrall, from the right side of the defense to Max Lowe, who advanced to the left wing, gave him room for an equally perfect cross to the far post. , where Johnson was arriving to drive home with a certain end.
Lowe's raging personality almost added to Forrest's advantage when he cut inside and curled up hardly clearing the shaft and rod angle.
Another good ball, this time from Ryan Yates, sent Jed Spence to the right and for a moment it looked like he might overtake the race before Richard Keough made a last-gasp interception.
The second half started with Ryan Wintel's powerful shot for the visitors.
Johnson's pace was still Forrest's greatest weapon. A pass from Yates sent him right and only an impressive challenge from Forest Academy producer Jordan Gabriel prevented Grabban from saving the finish.
Lowe then crossed Johnson but his first attempt was a hairline swing.
A foul cost then-back Forrest, as Spence and goalkeeper Bryce Samba both went on to tackle a cross from Gabriel, with the defender hitting a poor header as a result. The ball landed in front of Yates and he made no mistake, as he went home to make it 1-1 in the 53rd minute.
Forrest only took eight minutes to regain their supremacy. Midfielder Worrall came to the end of Lowe's skewed cross and while he saved Daniel Grimshaw, he couldn't catch the ball and Graban pounced on it in a real shot fashion to make it 2-1.
Lowe forced another save from Grimshaw as Forrest looked to make sure of the points. Graban should have scored when he was picked up by substitute Joe Lully but he smashed his shot.
When Lowe hit the net in the 90th minute, it sparked a sense of fear among the home team's fans, but Forrest held on for a deserved victory.
What did the managers say…
Nottingham Forest Steve Cooper: "I'm not looking that far [to a play-off push]It would be foolish to do so. Just a few weeks ago it was the other end of the table, wasn't it?
"But what I can say is that I really enjoy working with the boys; I enjoy being here for the fans because the atmosphere was great and it was really important for us to win the match."
Blackpool Neil Critchley"We didn't do enough," he said. "We had a lot of ball but we didn't do enough with it." We have recovered well from the defeat earlier this season and we will have to do it again. We have to show more courage and bravery in our playing, like anything else. There was a great atmosphere here and it was only when that faded away that we started playing with more confidence.
"If we showed it more, if we had done it from the start, I think this was a match where something was up for us. We were disappointed in the first goal, even though we had a good run at the end of the game. The first half. Back at the start of the second half, we got the goal and then you start to think you have the momentum to go forward. They were more dangerous on the counter-attack, which is when he created the best chances. The second goal involved a bit of luck as the cross veered and fell well for for them ".