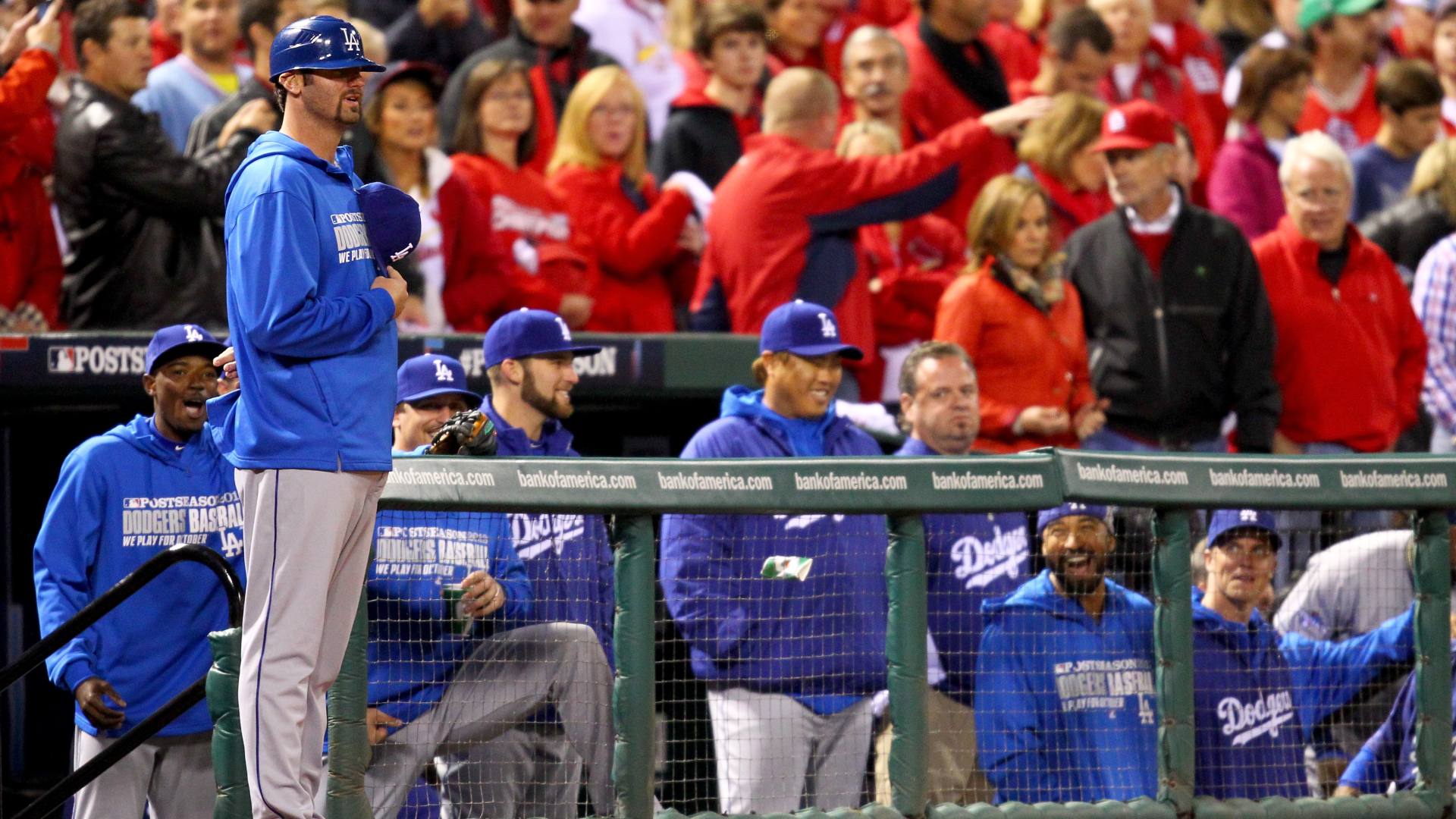 I wasn't quite sure what was going on before the first Game 6 of the 2013 NLCS game between the Dodgers and Cardinals kicked off. But even at this moment, I knew I loved him.
Joe Kelly was standing outside the Cardinals' lair, on the edge of the lawn. On the third base side, Dodgers player Scott Van Slick was standing a few steps outside his bunker. why? I didn't know for sure. But the national anthem was long gone and the Cardinals were in the field, preparing for the start of the impending game.
MORE: An MLB team's worst post-season memory revisited
However, Kelly stood there and Van Sleck stood, relentlessly, in their hoodies. Both of them were still holding their hats above their hearts.
That was on October 18, 2013.
"We're about 12 minutes and counting in the showdown between Scott Van Slick of The Dodger and Joe Kelly of the Cardinals, both of whom remain in position from the National Anthem, and they have a big showdown to see who breaks first." TBS reporter Craig Sager said the national broadcast was back from commercials.
"It was a tense match," Van Slick told Sporting News in a phone interview last weekend. "That was some endurance before the game."
MORE: Stolen bases, MLB's lost art, played pivotal role in 2021 playoffs
If you watch, you remember. Here's the backstory, as told by Kelly—now the lockdown mitigator that's so much of the L.A. business, of course— To SportsNetLA in 2019:
"That was one of the things I did all season; (Cardinals manager) Mike Matheny was a big believer in having everyone on the line. I wasn't making fun of the national anthem, but I was playing with Mike Matheny, to make sure he saw me. So I did something where we were on. The line and when the anthem was over, I'd be the last person standing all season, just so Mike could see me. I'd go to the dugout, celebrate, and tell my teammates, 'Look! We've already beaten them. I was the last player standing, we've already won this match.' They They don't even want to stand out in there. Just pump the guys up, yell at them. So it became a thing, and I think Scotty watched one of the games in the playoffs and got out there and held his ground and challenged me. I thought no one would ever pay attention to me just for standing there longer than anyone Another, and obviously someone saw that. That was one of the strangest moments in baseball, that's for sure. Especially in the playoffs where the game means so much. It was one of those things that was just kind of motivating the moment."
Van Slick said he read a story about Kelly's past playing habit a day or two ago and decided he would rise to the challenge. With the Dodgers' streak peeling off and back in the dugout, Van Slick remained steady.
"Early on, two of the rich people on the team said they'd cover the fines," he said with a laugh. "So I was fine to stay there as long as it took to win."
While the Cardinals' Michael Washa was finishing his warm pass, Dodgers loyalist Peter Moylan took a step out of the dugout and put his batting helmet on Van Slick's head.
"I would say I wasn't nervous about getting into trouble, but I was probably in the moment. I was probably frozen with fear," Van Slick said. "(The helmet) was more reassuring, knowing there were people behind me. Towards the end, you could hear giggles."
Finally, when the game was supposed to start and both players were still there, home board referee Greg Gibson stepped forward and signaled to leave the field. Kelly, who was off the field, took two steps toward dugout and Van Slick raised his left arm in victory as his Dodgers teammates celebrated behind him. An ESPN post-match story said that Kelly confirmed it was fake to get Van Slick to move.
MORE: 14 Postseason Oddities You Might Not Know About
"You can't enter the staring contest and say, 'I blinked an eye a little bit trying to get you to close your eyes. "I backed down, you know?" Van Slick said, still laughing. It's like saying, 'I wink at you to try and close your eyes. "This is not the way a staring contest works."
Van Slick won the pre-match contest but the Cardinals won the match 9-0, behind a superior performance from Wacha, who threw seven rounds. The Cardinals lost the World Championship in six games to the Red Sox.
Van Slick, who is from St. Louis — his father, Andy, was a Cardinals player when Scott was born — said he didn't know Kelly before this moment, apart from a typical "How are you?" Greetings from time to time.
"We checked out (in St. Louis) this off season or the next. We were able to hang out for two hours. He's an incredible guy. He's funny. He's an idiot like everyone else," Van Slick said. "We didn't really talk about the moment. It happened and it was funny. I can only imagine being around it for an entire year. I was around him for about two hours, he talked about everything, and everything he talked about was funny."
After staring beforehand, that probably wasn't a huge surprise.