Lionel Messi assisted all three goals as Paris St Germain extended their Ligue 1 lead to 14 points with a 3-1 win over 10-man Saint-Etienne, while Neymar injured an ankle and went off a stretcher on Sunday.
PSG took advantage of Timothy Kolodzigzak's red card at the end of the first half as Messi fed Marquinhos with two headed goals and Angel Di Maria scored to make a clinical turnaround after Les Vert opened the scoring through Denis Boanga.
With that result, the capital's team have 40 points from 15 games, with third-placed Rennes having a chance to leapfrog Nice to second when they travel to Lorient later on Sunday.
Saint-Etienne, who put up a decent challenge despite being a man tumbled by the snow at St-Geoffroy Guichard, are now at the bottom of the standings with 12 points.
Serie A: Sassuolo stunned AC Milan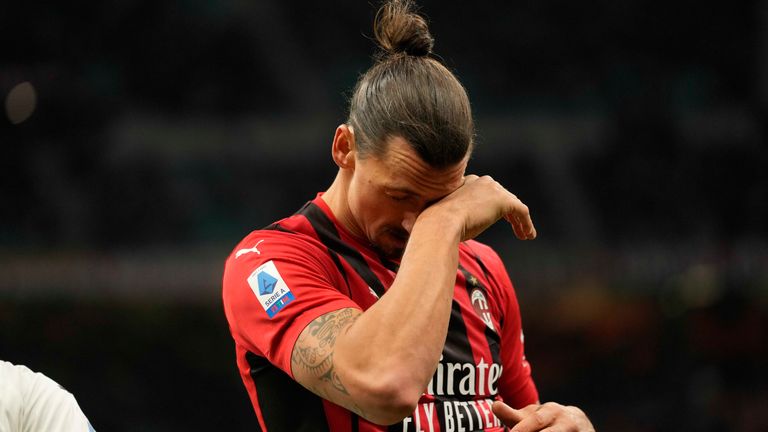 Milan fell to their second successive Serie A defeat when Sassuolo stunned their opponents at the San Siro by coming back from behind to win 3-1 on Sunday.
The hosts took an early lead after captain Alessio Romagnoli headed home a corner kick in the 21st minute, and Milan looked set to return to the winning ways in the league after last weekend's loss to Fiorentina.
But Sassuolo, who beat Juventus away from home last month, turned the game on its head, with Gianluca Scamaca's stunning shot and Simon Kjeer's unfortunate own goal giving them a 2-1 lead within 33 minutes.
Even with veteran striker Zlatan Ibrahimovic up front, Milan struggled to issue a response, with Domenico Berardi keen to secure a deserved victory for Sassuolo with a superb individual goal in the 66th minute.
Romagnoli's red card in the 77th minute practically ended Milan's hopes of getting anything from the match. It remains second in the standings with 32 points, with leaders Napoli, who play Lazio later on Sunday.
Sassuolo's first win in four league matches took them up to 12th place with 18 points.
German League: Leipzig lose to Leverkusen
Leipzig suffered a 3-1 loss at home to Bayer Leverkusen, on Sunday, in the second consecutive defeat in the German Football League, which led to it occupying the eighth place, which increased the pressure on coach Jesse Marsh.
Indeed, Leipzig, runners-up last season, is 13 points clear of leaders Bayern Munich after its fifth defeat in the league this season.
This was Leverkusen's second win in a row and returned to third place with 24 points.
Leverkusen, who have yet to lose on the road this season, had an early attempt from Moussa Diaby and ruled off the offside but took the lead when Floria Wirtz fired inside the penalty area to pick up a perfectly timed Exequiel Palacios pass to blast the ball over the goal. guard.
They added another goal in the 34th minute when Diaby crossed a Jonathan Tah cross.
Leipzig, who won 5-0 at Brugge in the Champions League on Wednesday, lost half a dozen players to injury and were toothless in attack until Andre Silva's powerful header in the 62nd minute cut the difference.
But after two minutes, Leverkusen regained the two-goal lead when Angelino saved Jeremy Frimpong's shot against Leipzig.
The frustrating afternoon for the hosts was completed when an 88th minute Dominic Zuboszlai penalty kick hit the post.