We are influencers and brand affiliates.  This post contains affiliate links, most which go to Amazon and are Geo-Affiliate links to nearest Amazon store.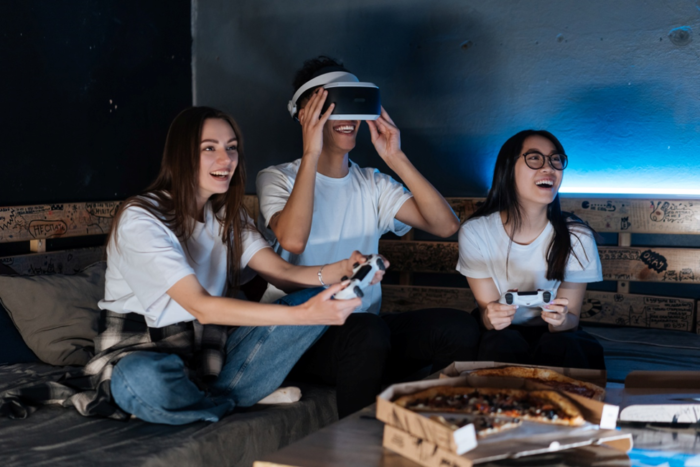 The gaming industry has been advancing the use of peripherals for some time through innovations for headphones, keyboards, and controllers. Recently, this has included headsets or eyewear that offer augmented reality (AR) or virtual reality (VR) capabilities to enhance gameplay immersion. With big tech names such as Apple, Sony, and Oculus developing such devices, the AR and VR market is expected to grow by 14% this year. These figures are also predicted to reach an annual growth rate (CAGR) of 32.6% by 2027.
The next step forward for gaming peripherals is the development of artificial intelligence (AI) accessories. And this is raising questions on whether this kind of technology will evolve the gaming sphere. After all, AI smart glasses are the most hotly anticipated wearable tech this year, and they could revolutionize gaming.
What are AI smart glasses?
To better understand how AI enhances wearable tech, it's important to understand what smart glasses are already capable of. Smart glasses are eye- or head-worn wearable computers that offer useful capabilities to their users. Some models even provide AR and VR features that overlay digital information over their users' real-time field of vision.
In recent years, major industry names like Google, Lenovo, Toshiba, and Vuzix have released iterations of smart glasses. However, the collaboration between Ray-Ban and Meta was one of the first to truly make waves within the market when they released the Ray-Ban Stories in 2021. These smart glasses combined the iconic Ray-Ban frames like the Wayfarers with some of the latest technology from Meta. Using the smart glasses, users can comfortably take photos and record up to 60 seconds of video with a dual-integrated 5MP camera. This provides a unique way of capturing moments from a distinct first-person point of view that users can seamlessly share to social media platforms without needing to use a phone.
With recent advancements in AI, though, smart glasses can now do even more. Case in point, the Ray-Ban Stories are soon getting an upgrade. This year, it'll be succeeded by the Ray-Ban Meta smart glasses, which uses AI for added functionality. By saying, "Hey, Meta," users can engage with the AI assistant directly for information, access to control features, and aid in brainstorming ideas.
Other industries are also optimizing AI to enhance the features of their smart glasses for specific purposes. In healthcare, there's the XRAI Glass: a wearable accessory that uses AI-driven software to provide assistance for deaf and hard-of-hearing individuals. Partnered with a smartphone app, the glasses display real-time subtitles of a conversation, which users can also rewind to help with clarity. The AI assistant can also translate nine different languages in near-real time, with more expected to arrive soon. Ultimately, more companies are showing what smart glasses can do when partnered with an AI model. Now, the question is: how can the eyewear revolutionize gaming?
Gaming smart tools and AI
Given the considerable technological advancements as of late, the prevalence of AI presents interesting possibilities for incorporation within the gaming industry. With smart devices like AR and VR headsets already proving themselves useful for enhancing player experience and gameplay immersion, there's already a niche carved out for smart glasses to slot into.
In fact, there are already some gaming smart glasses on the market, such as the Lenovo Legion, Virtue One XR, and Rokid Max—all of which have features that make handheld gaming easy to achieve on the go. These work to improve gaming accessibility since users don't need a customized computer build or the latest consoles to play their favorite titles.
In terms of AI, the gaming industry has already started utilizing automated programs to help with the development and design of games. However, there are yet to be updates on whether tech giants will be using AI to enhance the features of gaming smart glasses. As far as some experts speculate, Uinite report that employing generative AI in gaming can create a far more immersive and personalized experience. With this, players using gaming smart glasses can potentially have their gaming experience improved in real-time with AI, and they might have the ability to create whole worlds through their wearable devices alone.
Given the current trajectory of AI use in the tech industry, it's not a reach to expect significant developments with gaming smart glasses in the near future. For more on the latest in gaming innovations, check out more of our Technology articles here on Dragon Blogger.
We are influencers and brand affiliates.  This post contains affiliate links, most which go to Amazon and are Geo-Affiliate links to nearest Amazon store.
My name is Alice and I have been into gaming since I first got the Nintendo 64 in late 1996 and enjoy writing about all things relating to entertainment, gaming and streaming. Lately you can find me playing mostly MMO's like WoW, FFXIV or Black Desert Online when I have time to game.