Do you need a powerful and quiet fan to cool off during the high summer temperatures?
Summer is one of the most anticipated seasons by people, but as you know often high temperatures end up being a big problem (July was the hottest month ever recorded in some places). You can considerably raise your bills if you use one or several air conditioners in your home, instead, you can use a powerful fan to reduce the intense summer heat. They are efficient and can help you rely less on-air conditioning, plus you can place them not only indoors but also outdoors (as long as you have an available outlet).
There are a few aspects to consider before choosing a fan. Power is probably the first thing people consider, but often power means you'll also need to withstand increased noise, so always make sure you use a quiet fan if you're planning to sleep peacefully at night. A floor fan is the best option since you can adjust the height, plus they usually offer better performance, unlike the table fan. This time I will tell you about one of the most powerful and silent fans ever built.
The Rowenta standing fan is a great option to consider if you are looking to stay cool during the high summer temperatures. It's incredibly quiet despite offering considerable power, so if you've always had trouble sleeping while using a fan then you'll surely love this thing. Next, discover the most interesting features of this product.
Features of the Rowenta standing fan
2023 has been one of the hottest years on record, so it is likely that you have already felt the increase in temperature, unlike other summers. The Rowenta floor fan is one of the best options if you want to keep the atmosphere of your home cool. The main feature of this fan is that it offers incredible power which is enough to offer a freshness of 2400 ft3 / min, which helps to lower the temperature of a room while the wind keeps it cool. No worries, this fan uses a much safer grille, which means there is no risk of accidents.
The Rowenta floor fan has 5 adjustable speeds that you can change using a remote control (included). Forget about wasting energy while not using the fan, you can activate a timer of up to 8 hours, which means that the fan will turn off automatically while you do not use it. Probably the reason why it is a better fan than others is that it can run incredibly quietly, while working at the minimum level it only produces a noise of 35dBa. The height can be adjusted up to 1.50m, so you can use it anywhere in the home without problems. Finally, you can activate the oscillation angle of up to 120°.
You can buy this item here on Amazon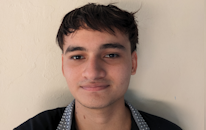 My name is Joel! I love to read, I go to university like most people my age.
In my free time I usually train boxing, I love music, I also know how to play the guitar and the harmonica.